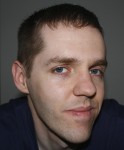 Jack Visnaw is an up and coming photographer based out of Livonia, Michigan. For the past several years Jack has been experimenting with what is commonly referred to as the "artist's gaze" and has produced many works that showcase his special brand of odd humor.
Jack is currently an MA candidate at Eastern Michigan University's Creative Writing program and owes the program's broad interdisciplinary structure to his start in photography.
The program has a strong interdisciplinary focus, and candidates are required to complete coursework outside of Creative Writing courses. I originally took the Beginning Photo course offered at EMU on a lark, mainly because I'd always thought photography was an interesting subject. Then I took another course. Then another. Then another.
Jack's passion to his work has taken on new levels of dedication as he grows and expands his photographic endeavors.
I've found a creative experience that excites me that I obsess over, and that brings me fulfillment on an orgasmic level.
When Jack speaks of his work there is no sense of an arduous trial. He completely embraces the complexities of his chosen medium and finds enormous pleasure in the challenges. Whether there is a concern of subject, placement, lighting, or any other number of issues that can crop up for the artist, Jack allows for the process to guide him through completion of a project, building on his range of techniques and experience.
I asked Jack to describe some of the challenges he has had in his work, and his modest response further articulated his love of photography.
In hindsight, I think that it would have been easy to look at any one of the hurdles as a barrier to creation.  Somehow, however, I looked at the whole process as a puzzle I was trying to work out, making adjustments and moving pieces around to see what would happen.  By embracing this mindset, the creative process never became about finding a final solution at any given moment but about playing around with ideas and experimenting until something clicked.
Jack's work ranges from sophisticated to thought provokingly odd, with a focus on unusual perspectives and humor fused into many of his pieces.
One particular piece that resonates with me is Love Note (8×10", Silver Gelatin print). I'm drawn into the tactile sensation that the piece provokes and am overcome by the space it envelops.
The massive foreshortening of the crumpled paper becomes a terrestrial landscape to explore while deciphering the obscured writing for clues about the subject. The stark black and white explores the spectrum boundaries of saturation with an incredible range of high and low tonalities. The simplicity this piece assumes is shattered by the adapt intricacies that build from the ground up in a distinctly architectural way.
A second piece, Untitled 2 (8×10, silver gelatin print with post-development manipulation) echoes many of the same qualities as Love Note.
I appreciate the intense interest in layered direction. Jack has created numerous lines from the cracked flooring to the reposed, male figure. Shadows intercede against musculature creating an arrangement of paths for the eye to follow as it sweeps up the elongated torso of the figure.
Similar to Love Note, there is a psychological aspect for viewers and the stark black and white tones moves the focus away from simple aesthetics towards the complexities of the psyche—an all together thoughtful piece.
Humor is also an important inspiration for Jack. He notes his fascination with Elliott Erwitt's "light humor" and allows for this kind of subtlety to be weaved into his work. The medium of Lori Nix's constructed dioramas is also a source of motivation in his work, which perhaps impacts the artist decision to incorporate layering, whether of light or lines, or color, into many of his works. As part of a series of children's toys, Jack's wryness manifests. Jack goes beyond presenting questions about consumer culture and subliminal messages in advertising.
The series is about how, when a toy is bought, it's not just the physical item that comes home to the child but all the potential play outcomes as well.
Combining amusement and irony, works like Imagination Adventure (17×22" pigmented ink jet print) and Nature in High Definition (17×22" pigmented inkjet print) are indicative of this bold attempt at a frontal assault on the viewer. There is no apology for the unflinching likeness to marketing ads; in fact it is precisely this irony of 'product as art' the viewer should focus on. The humor invested in these pieces should not be overlooked either as the "children's toys" present an ironic message themselves, an additional layer that creates depth beyond the subjects the artist chose for the series. This series was especially challenging for the artist, as he suggests there were many obstacles to overcome.
The challenge was in part because there were multiple aspects of the project that tested my abilities.  I was challenged conceptually to come up with an approach that didn't look like every other toy photo already out there while still referencing the issues I wanted to explore.  Once I'd settled on the idea of toys in their boxes, I had to determine how they were situated in the image (ultimately leading to the gradient background in each image).  I also had to learn to photograph clear plastic packaging so that there wasn't glare blocking out the image.
It is attention to these micro details that will further Jack's work as he continues to produce polished and studied pieces.
Jack's work has been exhibited in Photographer's Forum magazine's "Best of College Photography 2010″ book, the Museum of New Art in Pontiac, Livonia City Hall, Bombadill's Café (formerly of Ypsilanti, MI), the Dreamland Theater of Ypsilanti, the Art Lounge at the University of Michigan Union, and in the Art Gallery at the Livonia Civic Center Library as well as appearing in the 2009 and 2010 editions of the Arts and Literary publication Cellar Roots and the April 2010 edition of 52/48 creative writing anthology. Pieces are also currently up for consideration at the Ann Arbor Public Library as well as the 2011 edition of Cellar Roots. For purchasing inquiries, contact the artist, Jack Visnaw, at jack.visnaw@gmail.com.