Archive for
July, 2010
Grateful Grahams bakes homemade, soft and chewy, graham crackers from hand selected all natural, vegan ingredients. Grateful Grahams can be found at local festivals and a few local retail stores in the Cincinnati, Ohio and tri-county area.
Rachel DesRochers previously worked in marketing for a nationwide whole foods retail chain, but recently became a stay at home mom and part time doula. She was looking for ways to bring in extra income, but it had to be something that she enjoyed doing and felt good about. Rachel feels blessed every day, and she wanted to contribute something back to the world.
Rachel loves to bake, and she felt that providing a wholesome, nutritious snack that is friendly to the environment would be the perfect way to give back.
Rachel developed a vegan graham cracker snack in two wonderful flavors. The Chocolate Grahams are soft and chewy with a rich cocoa taste. The Cinnamon and Sugar Grahams are also soft and chewy, with a wholesome ginger and cinnamon flavor. Both are lightly sprinkled with raw sugar. They're perfect for making s'mores, with vegan marshmallow spread, or for dipping in soy milk.
Rachel premiered her snacks at the Cincinnati Earth Day 2010 festival, selling out quickly. Once they opened the bag to try them, they kept coming back for more.
She also appeared at local festivals like the Wyoming Art Show, one of the area's premiere showcases for art.
Rachel is still attending local festivals all summer long, so if you see her there, I recommend buying one bag of each flavor, trying them out, and then going back to buy more of your favorite. Also, she won't mind if you eat them right in front of her.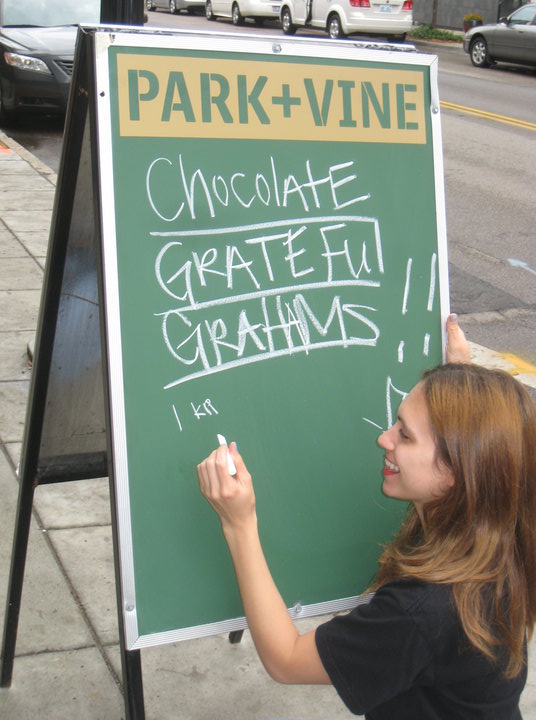 You can now find the graham squares stocked daily at local stores such as Park and Vine, Blue Manatee Children's Bookstore, and Joseph-Beth Bookseller's in Rookwood.
Visit GratefulGrahams.com or friend Grateful Grahams on Facebook to see what local festival she'll be at next, or to be notified about the growing number of stores where you can find her vegan graham squares.
I love the Chocolate Grahams, and I figured out that if I hid them from the kids, I could eat a few after each meal and they'd last all day. Let me know about your experience with Grateful Grahams.
Update! You can now find Grateful Grahams online at Pangea Vegan Products and Vegan Essentials.
The Yankee Doodle Deli makes handmade gourmet pretzels in three unique and distinct flavors, using only the finest local ingredients. Zels can be found in many local retail shops in the Covington, Kentucky, and tri-county area.
It all started when Marilyn Baker went out to pick up a movie, and came back with a dog. Marilyn named the dog "Yankee Doodle", inspired by the name of the film ("Damn Yankees"), which she had intended to buy on that eventful trip.
Years later, in 2004, Marilyn's companion, Yankee Doodle, sadly died. To help her cope with the loss, Marilyn put her energy into cooking, a lifelong passion.
A speech pathologist at a rehabilitation center, Marilyn prepared food for her coworkers. Out of the items that she baked, one thing became a clear hit–her gourmet spicy pretzels.
With the prize being an entire bucket of the gourmet pretzels, Marilyn had a naming contest for the snack, and the name Zels was born.
With the help of friends, family, and coworkers, she developed two more flavors.
The three mouth-watering varieties are the original Spi-Zels (mildy spicy, tangy, and salty), Honey Gla-Zels (sweet and salty with a hint of peppery spice), and Cinna-Zels (sweet and salty cinnamon).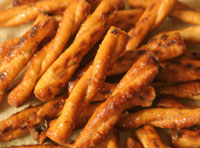 Zels gourmet pretzels can be found in local retail and hospital gift shops.
Visit YankeeDoodleDeli.com for a list of retail stores where you can find Zels and to order online. You can also friend the Yankee Doodle Deli on Facebook.
I love the Spi-Zels, but my kids prefer the Gla-Zels. Let me know which one is your favorite.