Music
Gallery Project has put together a wonderful multimedia exhibit, titled "What's So Funny?", where artists were challenged to submit pieces of artwork that are "humorous". The substantial exhibit showcases the works of 34 artists, many of whom are local, who answered the call. The art on display expresses humor along the spectrum of dark to joyous, and ranges from immature to intelligent.
You're likely to stand in front of at least one of the pieces, asking "What's so funny?", while your friends walk away laughing hysterically. It's obvious that not everybody cracks up at the same thing. Humor is a wonderful thing to explore.
Gallery Project, one of the few actual galleries in Ann Arbor, has a beautiful downtown space. Gloria Pritschet, gallery co-founder, says that the gallery is operating in its first year without guaranteed funding, as their primary backer had only promised funding for the first five years. They're now operating into their sixth year. The gallery hosts nine collaborative, themed exhibits a year, with themes and submission requests offered well in advance.
I attended the opening reception ceremony with Jason Wright, our researcher, and Carrie Ann Knauss, our soon to be guest blogger, was our guide. As the three of us approached the gallery, professional painters were just finishing repainting the trim on the outside of the building in a dark teal color. There were wet paint signs stuck everywhere on the windows, and several passers by remarked that it seemed like a marketing gimmick, referring to freshly painted canvases inside.
We showed up right as the ceremony started, and had a chance to talk to the gallery co-founders and directors, photographer Gloria Pritschet, and painter Rocco DePietro. They were very friendly, answered our questions in abundant detail, were interested in our impressions of the exhibit, and were appreciative of our interest in the arts. As the artists arrived, Pritschet and DePietro were very helpful at introducing us while managing to also successfully greet each guest and hold many in-depth conversations.
As we wandered from front to back, the three of us couldn't help but start a discussion about what we each found funny and not so funny. The show was obviously doing its job, and if you go, we recommend bringing your friends and discussing the pieces together. You'll learn a lot about humor and what it means to yourself and others.
The only piece that we could all agree on was an oil painting by Nathan Boyer titled "The World As Will". Actually, it wasn't the painting itself, which was quite aesthetically beautiful while evoking a dark feeling of dread, but underneath the painting was a small 13″ cathode ray tube television playing a DVD. The video was of a very animated man, which we can only assume was the artist, dressed as the type of insect like alien you might see on a children's show. His rambling was absurdly funny and he was greenscreened in front of a larger version of the painting.
I'm quite a big computer geek, so I was drawn to a piece of installation art by Anthony Fontana titled "#sculpturefail".
Using the word "fail" after a word has been a frequently used Internet meme evolved from the term "epic fail", to indicate a situation where an attempt at something has resulted in utter failure. I can imagine the artist trying to come up with the most absurd piece of modern sculpture to fit the name, finally settling on just grabbing a bunch of unsharpened pencils into a bundle, letting go, and thinking, "Art, lolz."
The piece of art makes a social statement, and a funny one, making light of both the art and Internet cultures.
While I was photographing the scuplturefail, Jason and Carrie Ann had disappeared. I found them in the back of the gallery, in the area where set designer Vince Mountain and audio engineer Frank Pahl, had put together an eclectic combination of kinetic art, light, and sound with performance by actor Malcolm Tulip.
Carrie Ann was engaged in a conversation with Tulip, or at least was being engaged by the amusingly talkative actor. Tulip was dressed in a tuxedo and wore glasses, a fez, and multiple fake handlebar mustaches. While holding a brandy glass, and in a drunken English accent that reminded me of Dudley Moore from "Arthur" but with the posh manners of Mr. Belvedere, Tulip talked the three of us up while showing us around his lovely "Automatic Bachelor Pad".
Never breaking character, Tulip told us about the wonderful inventions in his bachelor pad, giving us a drunken Englishman's interpretation of the devices and decorum. He demonstrated the "Self-Emptying Ash Tray" to us with quite a bit of amusement in his voice, which was quite catchy and we all found ourselves laughing at the show.
At one point, Tulip invited our lovely Carrie Ann to sit down and read one of his fine books, which she took him up on. I was able to snap a picture of the two of them, with Tulip reflected in the mirror.
The chap was quite chatty, which can happen when one lives alone, but we managed to evade his small talk and headed back out to the main floor of the gallery.
Jason and I stared at the remarkably carved wood sculpture of a rabbit for quite some time, but the joke was over our heads. Unfortunately we didn't notice the obvious shape of the piece of wood or consider one of the many names given to bunnies.
Just curious to see who had carved the beautiful piece, we looked at the program, at which time we saw the title. "Oh!" we exclaimed, as the punchline hit us. Jason and I found it to be quite a clever joke, and we quickly dragged Carrie Ann over to show her the sculpture, which had been carved by Todd Frahm. We told her about the piece and its title, and waited for the punchline to sink in. I think that Carrie Ann laughed more at our amusement than at the punchline. Another example of how we all find different things funny, and humor strikes us all in different ways.
In the basement was some fun art from Tim Péwé, like the piece titled "Gator Emporium", and some rather creepy art by the same artist titled "Shasta", which made me think of what a nightmare would be like if it was drawn by comic artist Mike Judge of "King of the Hill" and "Beavis and Butt-head" fame.
Before we left, we had a chance to talk to Paul Marquardt, a multi-disciplined artist with 35 years of experience, that had driven down from Kalamazoo for the opening ceremony.
The mixed media piece is constructed from a digital print on taut canvas and an electric rocker motor, and it highlights a social observation that people will use one word when they should be using the other word. Paul had a few words to say about his motivation behind the piece.
People will often use the word taunt when they meant taut. Very common. Very common mistake, and I have to say in my younger years, I did it a few times too. So it has some resonance with me, and it has resonance when i hear other people do it.
I actually had no idea that these two words were mistakenly interchanged so commonly. I don't have many conversations where either of these words is used. I do often see people misuse the word "defiantly" to mean "definitely". The piece has a motion element to it when it's plugged in, so our photo doesn't do it justice. You should check out this very smart piece for yourself, at this very fine gallery that deserves your patronage. There are a ton more pieces of fine art at this show, that we didn't have time to highlight.
Humor is a personal experience. It strikes us each in its own way, which we seem to have little control over. We might be sore about something one day, and be ready to laugh about it the next, and we might be laughing more than our friend who never shared the same experience. Even if we can't all agree on what's funny, it's more fun to disagree with smiles on our faces.
Gallery Project is located at 215 S. Fourth Ave, in downtown Ann Arbor, Michigan. The "What's So Funny" exhibit will be showing through November 28, but we recommend that you go out and see it as soon as possible because you don't want to put it off and take a chance of missing it. The gallery is open every day except Monday. Please give the gallery a call at 734-997-7012 for more information, or visit their Web site.
MWP would like to thank the gallery's directors for putting together such a wonderful and thought provoking exhibit, and for being so gracious. We'd also like to thank the artists for contributing their time and passion into this collaborative event. Please click on the "I HEART THIS" button to show your love for the great "What's So Funny?" exhibit.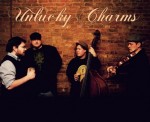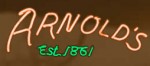 Oh my darned luck, Saint Patty's day only happens once a year. There must be some way to squeeze some Irish out of the other seasons. Oh, but there is!
September 17th is "Half Way to Saint Patty's Day". Celebrations will be held city wide to usher in the annual turning point when it becomes closer to Saint Patty's Day than it isn't. You can celebrate the tidings all night long with the Unlucky Charms at Arnold Bar Grill in downtown Cincinnati.
There's no cover charge. The band starts at 9:00 PM, but get there early. You'll want your beer in hand to sing along.
The Unlucky Charms at Arnold's Bar and Grill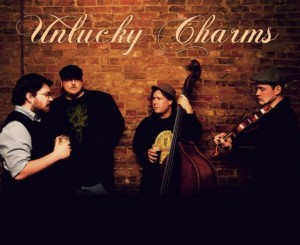 The Unlucky Charms perform traditional, acoustic, Irish pub music in venues throughout the Greater Cincinnati, Northern Kentucky, and surrounding areas. They're not what you expect to hear in an Irish pub, unless you're Irish.
Russ Lamkin grew up in Aurora, Indiana, but recently migrated to Cincinnati, Ohio to be closer to his work at a DNA Testing Laboratory. He is the founding member of the rowdy Irish pub band known as the Unlucky Charms.
Russ is also a part time filmmaker, and ghost hunter.
I believe Bigfoot was on Noah's ark.
Russ is of Irish and Scottish descent and had a habit of visiting local Irish pubs in search of foamy pints of lager, especially on Saint Patrick's Day. However, whenever he asked the bartender, "When's the band come on?" The usual answer was a shrug. Occasionally, there'd be a Celtic band, complete with fiddles and red-headed Gaelic dancers, but the classical ambiance didn't go with his Guiness, and he couldn't sing to it.
Inspired by contemporary artists like the Clancy Brothers and Tommy Makem, who are, to this day, ushering in a revival of traditional "trad" Irish music to America, Russ felt passionate about bringing the excitement to Cincinnati
Shane Macgowan [Pogues fame] is another big influece when he was alive… oh wait, he's still alive – but I'll be damned if his liver is.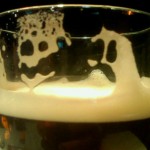 Russ went to school for sound engineering and is a self-taught musician. He just needed some fellow band mates that were up to the challenge of traditional Irish music. With the promise of free beer and the enamor of red-headed beauties, he called upon a few lifelong friends, and the Unlucky Charms were born in 2004.
The Unlucky Charms started out playing Saint Patrick's Day gigs, but thanks to the large number of Irish pubs and restaurants in the Greater Cincinnati area, the band quickly established themselves as "anytime" musicians, with the ability to bring in a crowd any day of the year. The Unlucky Charms dole out crowd favorite Irish songs, including originals.
Far from the soft-spoken ethereal lullabies people normally expect from traditional Irish music; the actual end product of The Unlucky Charms is something akin to a Viking victory celebration fueled by Jameson and Guinness. Our four-man, acoustic act is centered around traditional Irish pub songs ranging from toe-tapping jigs to mug slamming sing-alongs that are guaranteed to lift your spirits and raise the rafters!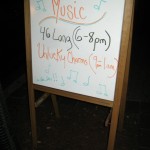 The Unlucky Charms have a current cast of four musicians. They're still auditioning for a permanent fiddle player:
Russ Lamkin – Vocals/Guitar
Dustin McKeehan – Drums
Mike Kiely – Stand-up Bass
Howard Kluesener – Mandolin
Friend the Unlucky Charms on Facebook to stay in touch and be notified about their upcoming performances. You can go there now and click on the Events tab.
The Unlucky Charms appear at Molly Malone's Irish Pub & Restaurant every other Saturday, where you'll find real Irishmen and lassies at work. The Unlucky Charms are also performing at Fountain Square, Saturday, Sept. 4th, 2010 between 1:00 PM and 2:00 PM for the Guinness Oyster Festival.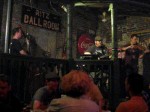 I saw the Unlucky Charms at Arnold's Bar and Grill on a Friday night, along with MWP reviewer Mark. We both really enjoyed the show, and we'd consider bringing children and parents along next time. It was loads of fun. The Unlucky Charms don't sing at you, they sing with you.
Everyone should get a chance to see the Unlucky Charms perform their original "Drink Your Way Into Heaven". The audience goes nuts–they raise their mugs, sway and sing along, and spill large amounts of beer. Let me know which song is your favorite, and if you can still sing the chorus weeks later, like I can.
Unofficially, what truely makes us unique as an Irish band is that we play fast and rowdy without converting our sound into rock or punk style. We're folk music, through and through, but it's not the stuff your grandparents grew up on. Expect fast picking, whiskey soaked singing and music that pleases the young as well as the old. It's universal. It's true Irish party music. And it sham-rocks!
If you like acoustic folk music, go see how the Irish do it.