Art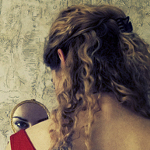 Lilyana Karadjova is a creative art photographer from Sofia, Bulgaria where her day job is working as a cultural journalist for Novinar, one of the top national daily newspapers of the recently democratic republic. When not writing for the newspaper, Karadjova writes for her own personal discovery, and takes beautiful and tragic photos that reveal her intimate struggle to escape the isolation of a media saturated country.
As part of the country's long transition from Communist control to a democratic market economy, Bulgaria legally established freedom of the press from government censorship only ten years ago. This drastic change resulted in a media explosion in Bulgaria that is only now tapering off due to a struggling economy. The 2008 KAS Democracy Report by German political reform organization Konrad-Adenauer-Stiftung, reports that Bulgarians are exposed to one of the largest number of daily newspapers per capita and watch more television than any other European people.
What you see on earth is that the dominant civilizations are "hit", obsessed, victims of television.
Growing up as the daughter of a painter, Lilyana Karadjova always loved the visual arts. However, it wasn't until three years ago, having suffered a series of unfortunate times in her life, that Karadjova discovered her passion for reflection through photography. Having struggled to save the money for her first digital SLR camera, a serious upgrade from a point and shoot camera, Karadjova invited a friend to pose for her.
One of my friends — a very sensitive and beautiful woman, was my first model and we made some great pictures in our first photo session.
One of her first successes, pictured right, made Karadjova very enthusiastic and she hasn't stopped taking pictures since.
Karadjova is proud to admit that although she knows a lot about the history of art and photography because of her schooling and profession, that she's completely self taught as a photographer.
Many people say that every beginning is hard. I would say that the beginning is much easier, because you are not restricted by any type and genre of art you will start doing later.
Karadjova majored in philosophy in school, which she had hoped would give her a broad perspective that would be easily applied to her professional and personal life. However, she found that studying philosophy can actually be dangerous to your personal growth if you're not careful. You may become very limited in theory and close your heart and mind to new and passionate thoughts and experiences.
After graduating school, Karadjova worked as a reporter at Nova Televsion, one of the three major television stations in Bulgaria. After that, she worked for two years as an editor for the art themed news publication "Wine and Power" before moving up to the cultural journalist position at Novinar, where she currently enjoys interviewing and writing about fellow artists.
In July, Karadjova had an opportunity to feature her work at the Academy Gallery at the National Art Academy of Bulgaria in Sofia. The celebrated exhibit was called "Postidentity" and began with a series of intimate portraits, which then progressed through a series of images representing media's penetration into the lives of postmodern man. It concluded with piercing images representing deconstruction, some of which were taken with a broken lens.
Now I'm 25 years old, and I'm trying to keep my soul and perception as open as a child's, so not only I learn much easier, but also find new places in my imagination.
Lilyana Karadjova is a wonderfully creative experimental art photographer that uses rich tones and icy cold vignettes that remind me of the work of Italian born fashion photographer Paolo Roversi. The muted but warm colors show a passion for life while the troubled poses and the surrounding ocean of blues and greens act to drown the subjects in silent desperation. With the utmost sensitivity, Karadjova seems to highlight the beauty and pain with a contrast that gives us a very personal heart felt look into the subjects and the artist herself.
Karadjova has an excellent eye for both color and black and white photography, and we look forward to seeing more of her experimentation with things such as broken lenses. We can imagine her easily applying her artistic talent to fashion or celebrity portrait photography.
Karadjova says that as a portrait photographer, she is inspired by uncommon and strange people. Her passion is to stop time, capture her inspiration, and allow others to see it through her eyes. I asked her how she composes these scenes.
Sometimes I have an idea and I realize it the way it was intended to be and other times in the working process I become really inspired and then I just have a lot of new ideas. So, this means that the first idea is a starting point, and it is just a push to start working. Much more ideas come in the working process. It is like music improvisation. One should be playing with one's imagination. This is what I call creativity.
My studio is an empty room, which constantly changes the color of its walls. For this purpose I use different textures and paper. I have huge pieces of organza and silk, which are usable in the decoration of interior, making it a dream-like one. The floor is old — I don't do anything to strengthen the effect. There is a big window, which is the prevalent source of light. I also use a reflector now and then.
You can find many more of Lilyana Karadjova's beautiful and thought-provoking photos on her official Web site. Lilyana would like to invite everyone to visit her site and write her an e-mail if they want to share their impressions.
MWP would like to thank Lilyana for sharing her story and the diverse collection of her photos with us. We look forward to following along as she strives to express herself through journalism and photography.
Please let me know which of Lilyana's pieces is your favorite, and I'm sure that Lilyana would appreciate it if you would click on the "I heart this" button to show your love.
15I

This