Art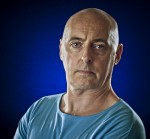 Edward "Edd" Carlile is a Scottish born, seasoned photographer who grew up in the slums of Glasgow but currently resides in Budapest, Hungary where he's working as an English language teacher while exploring his talent and passion in fine art portrait photography.
Carlile had been interested in photo montage from a young age and has been doing photography, including developing and printing since he was 14 years old. Carlile says that he owes his early beginnings in photography to two enthusiastic social workers that taught photography to children as a means of artistic escape from the harsh Glaswegian life of the 1960s and 1970s.
Read any book by Paddy Doyle and you get a feel for the poverty and desperation of a city and community becoming post industrial and what that means for the human heart.
Today, Carlile supports his beautiful wife and children by working as a private English language teacher in Hungary. Due in large part to his business savvy, talent, and well honed photography techniques, Carlile also operates a profitable corporate and event photography business on the side.
I live in Budapest, an incredible bawdy old whore. Beautiful and sensual, decaying and flatulent… visually a photographers wet dream.
Carlile's more personal art comes from photo sessions that he does at no charge, where a model with a lot of character can get some exceptional portraits in exchange for his or her time and permission to be featured in Carlile's growing portfolio.
My studio is located in my spare room but the actual size that I need is very small. The space I need to do a portrait shoot is pretty tight, particularly if I'm using a 50mm lens.
Carlile has mastered the lighting technique known as Rembrandt lighting, named after the famous Dutch painter who featured this type of lighting in his portraits. The heavy contrast in light and dark, done by directly lighting only one side of the face, brings out the fine detail of the face.
It's no accident that Carlile's "Faces of the Past" series of portraits have a remarkable resemblance to the Dutch master's.
Edward Carlile is an amazingly talented photographer whose use of chiaroscuro lighting paints a wonderful portrait full of texture, while masterfully capturing the entire life and future of the subject in the deepest and most respectful way.
Carlile's ability to capture his subjects' struggles, despair, innocence, and sometimes a glimmer of hope or fire for life, reminds me a lot of the works of famous American photojournalist Steve McCurry. Additionally, Carlile's use of light to achieve a vibrant shine and wonderfully textured form really captures the essence of a person's face and character, a skill that I have to compare to that of famous Armenian and Canadian portrait photographer, Yousuf Karsh.
I always like to have portraits looking timeless. When I have a model before me I like to dress them with fabrics, hats and scarves. Cover up modern hairstyles and remove anything that places the model in this time.
In November of 2009, Carlile arranged to take portraits of the general public in his native Glasgow at Borders Books & Music, a store which has its origins in my own hometown of Ann Arbor, Michigan here in the U.S. At the book store, Carlile set up his simple studio and convinced 75 locals to participate in his series titled "Faces of Glasgow", an enlightening examination of the hard working people of Glasgow.
Through his wonderful portraits and interview questions, Carlile has put together an insightful piece into his fellow man that captures the heart of Glasgow. He is currently trying to get the body of work exhibited in his home country to show the pride he has of his fellow countrymen.
I love trying to pull something from a short time that I have with a person that gives the viewer a strong impression of emotion and character and that the end result for the subject is a completely different view of themselves than they may have seen before.
Carlile says that he prefers to shoot through a single umbrella for the key light, which he uses close enough to the subject to also spill light onto the opposite side of the face. Carlile then uses a second light to pull the subject out of the black background and give the head some definition. He says that he's purchased a full set of studio lights from the good people at Elemental Photography, but is still getting good results with his two Nikon SB 600s, Nikon SB 800, and "bad ass" Nikon SB 900 Speedlights. Although Carlile does plan on breaking out some of his studio constant lights for an upcoming 1400 person corporate shoot, which we're sure will keep him busy for awhile.
Some of my favorite works of Edward Carlile were not in this review, so I highly recommend visiting his official Web site to see more of his fabulous works, including his "Faces of Glasgow" series. To get the full story about the people in the photos, you should pick up the series in book form under the title Glasgow Faces, available from online retailer Blurb. To get a glimpse into the life of this hard working photographer and see photos of his beautiful family and studio, you should visit his photoblog. Carlile is proud that his piece titled "The Painter's Apprentice" was featured at 1x.com, a web site that he likes to frequent. "The Painter's Apprentice" is one of my favorite pieces by Carlile, and you can buy prints of it and many others from online photo retailer Zenfolio.
MWP would like to thank Edd for contributing his story and photography and allowing us to interview him, and we wish Edd all the best at getting an exhibit for "Faces of Glasgow" that we know would make his countrymen equally proud of him.
Please let me know which of Edd's pieces is your favorite, and be sure to click on the "I heart this" button to show your love!
15I

This