Art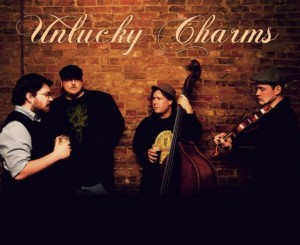 The Unlucky Charms perform traditional, acoustic, Irish pub music in venues throughout the Greater Cincinnati, Northern Kentucky, and surrounding areas. They're not what you expect to hear in an Irish pub, unless you're Irish.
Russ Lamkin grew up in Aurora, Indiana, but recently migrated to Cincinnati, Ohio to be closer to his work at a DNA Testing Laboratory. He is the founding member of the rowdy Irish pub band known as the Unlucky Charms.
Russ is also a part time filmmaker, and ghost hunter.
I believe Bigfoot was on Noah's ark.
Russ is of Irish and Scottish descent and had a habit of visiting local Irish pubs in search of foamy pints of lager, especially on Saint Patrick's Day. However, whenever he asked the bartender, "When's the band come on?" The usual answer was a shrug. Occasionally, there'd be a Celtic band, complete with fiddles and red-headed Gaelic dancers, but the classical ambiance didn't go with his Guiness, and he couldn't sing to it.
Inspired by contemporary artists like the Clancy Brothers and Tommy Makem, who are, to this day, ushering in a revival of traditional "trad" Irish music to America, Russ felt passionate about bringing the excitement to Cincinnati
Shane Macgowan [Pogues fame] is another big influece when he was alive… oh wait, he's still alive – but I'll be damned if his liver is.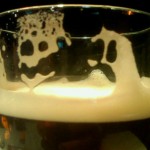 Russ went to school for sound engineering and is a self-taught musician. He just needed some fellow band mates that were up to the challenge of traditional Irish music. With the promise of free beer and the enamor of red-headed beauties, he called upon a few lifelong friends, and the Unlucky Charms were born in 2004.
The Unlucky Charms started out playing Saint Patrick's Day gigs, but thanks to the large number of Irish pubs and restaurants in the Greater Cincinnati area, the band quickly established themselves as "anytime" musicians, with the ability to bring in a crowd any day of the year. The Unlucky Charms dole out crowd favorite Irish songs, including originals.
Far from the soft-spoken ethereal lullabies people normally expect from traditional Irish music; the actual end product of The Unlucky Charms is something akin to a Viking victory celebration fueled by Jameson and Guinness. Our four-man, acoustic act is centered around traditional Irish pub songs ranging from toe-tapping jigs to mug slamming sing-alongs that are guaranteed to lift your spirits and raise the rafters!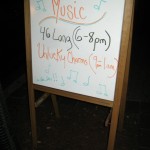 The Unlucky Charms have a current cast of four musicians. They're still auditioning for a permanent fiddle player:
Russ Lamkin – Vocals/Guitar
Dustin McKeehan – Drums
Mike Kiely – Stand-up Bass
Howard Kluesener – Mandolin
Friend the Unlucky Charms on Facebook to stay in touch and be notified about their upcoming performances. You can go there now and click on the Events tab.
The Unlucky Charms appear at Molly Malone's Irish Pub & Restaurant every other Saturday, where you'll find real Irishmen and lassies at work. The Unlucky Charms are also performing at Fountain Square, Saturday, Sept. 4th, 2010 between 1:00 PM and 2:00 PM for the Guinness Oyster Festival.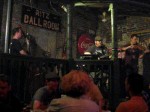 I saw the Unlucky Charms at Arnold's Bar and Grill on a Friday night, along with MWP reviewer Mark. We both really enjoyed the show, and we'd consider bringing children and parents along next time. It was loads of fun. The Unlucky Charms don't sing at you, they sing with you.
Everyone should get a chance to see the Unlucky Charms perform their original "Drink Your Way Into Heaven". The audience goes nuts–they raise their mugs, sway and sing along, and spill large amounts of beer. Let me know which song is your favorite, and if you can still sing the chorus weeks later, like I can.
Unofficially, what truely makes us unique as an Irish band is that we play fast and rowdy without converting our sound into rock or punk style. We're folk music, through and through, but it's not the stuff your grandparents grew up on. Expect fast picking, whiskey soaked singing and music that pleases the young as well as the old. It's universal. It's true Irish party music. And it sham-rocks!
If you like acoustic folk music, go see how the Irish do it.