Desserts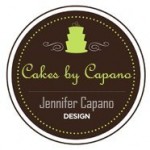 Cakes by Capano is a family run, home based business that makes delicious and gorgeous custom cakes for all occasions, including weddings and birthdays. They are Located in Fort Thomas, Kentucky, just 8 minutes from downtown Cincinnati. Cakes by Capano started when Jennifer Capano's husband, David, told her to go bake a cake.
Jennifer Capano is the owner of Cakes by Capano. She was an elementary school teacher for 9 years before realizing her dream of designing, baking, and decorating cakes.
I've always enjoyed baking. My favorite part of going to a wedding was always to see the cake and the details that the artist created. When I became engaged and went to the bridal shows, it was my favorite part of the bridal shows. I was more interested in checking out the cake designs and I wound up designing my own wedding cake.
Shortly after she was married, Jennifer told her husband about her passion. One of the best things that you can do in a marriage is to tell your spouse what you really want. Her husband heard her loud and clear and gave her a cake decorating kit for Christmas in 2002.
When David gave me my toolkit, he told me "Now here's your toolkit, go and take the classes and don't let anything hold you back."
At the time, Wilton was offering three different cake decorating courses. The following spring, Jennifer took all three. Wilton is the industry leader in the cake decorating business, and the Wilton School of Cake Decorating & Confectionary Art is internationally renowned. Wilton has literally written the book on cake decorating.
In the fall of 2003, Jennifer was challenged with her first paying gig. A friend asked Jennifer for a wedding cake. Some people turn down their first big job out of fear of failure. Some people accept and get in over their head. Jennifer, encouraged by her husband, took the job.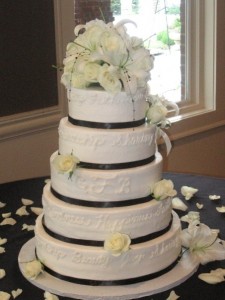 She succeeded, and the wedding cake was a huge hit.
I thought to myself, "I can do this." I realized that I could make a living off of something that I loved to do and people love what I do. My husband told me that I needed to take myself more seriously because people liked what I did, they loved it and they were willing to pay me for it… that's how Cakes by Capano was really born.
Jennifer learned early on, even when she worked with a cake decorator for her own wedding cake, that creating a cake can be a collaborative art. It's about finding out what the customer envisions and then making that vision a reality. However, sometimes the customer doesn't mind being surprised.
My Ode to Peacock cake! The client wanted a wedding shower cake, and she gave me complete creative freedom. All I knew is that the bride's theme were peacock feathers. So I had peacock feathers and a color scheme to work with… and the client's budget.

I couldn't find peacock feathers to stick in the cake so I looked for drawings or photographs of peacock feathers so that I could make intricate designs of the feathers. Using that as my inspiration, I came up with an abstract peacock feather in the colors of teal, purple and gold which covered the front and side of the cake. The client's first reaction was priceless!

She gasped and was just floored because it was exactly what she wanted and she didn't even know what she wanted. She had something in her mind's eye but couldn't tell me and I made exactly what she wanted.

She's become one of my best clients and has sent me lots of referrals. Whenever she orders a cake, she never tells me exactly what she wants, she gives me a theme or a color scheme and lets me run with it. I always custom design her cakes with my creativity and inspiration.

It's clients like her that make me love what I do so much, they allow me to be an artist, not just a craftsman.
Jennifer continuously educates herself by reading books and trade magazines. She's also a current member of ICES, the largest professional organization dedicated to her craft. Yet, Jennifer develops most of her skills through her vast experience and hard work.
Cakes by Capano gets most of their business from word of mouth. They have many repeat customers, and there's always a holiday or event around the corner that deserves a cake.
Jennifer's busy enough that she can't do it on her own.
Last year, my husband joined me full-time and we began helping one another in our businesses as full-fledged partners and that's when things **really** took off for us.
Jennifer lists her husband, David, as her biggest inspiration. She's also inspired by other skilled cake decorators.
All are unique and have their own special gift; everyone has something special to give and I find that truly amazing and inspirational.
Cakes by Capano is known for Jennifer's amazing custom icing recipe and her fabulous chocolate cream cheese filling.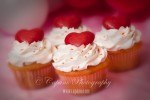 Cakes by Capano also makes cupcakes. Cupcakes are finger food, so they require less cleanup, making them ideal for your child's classroom or your next company meeting. Cupcakes are always a hit with the kids.
I asked Jennifer how she keeps her two children and David from putting their fingers in the icing, especially working out of her own kitchen.
Dave gets to lick the bowl when I'm done. Our daughter is given a cupcake and her own icing bags to decorate if she pleases. Our baby is given his own icing bag with tip on to suck on, to stay out of the rest of the icing. He's also given access to the crowns of the cake that are cut off which is open to the rest of the family as well.
Since Cakes by Capano is a family business, I asked Jennifer what the family favorites were and how the family feels about the cake business in their kitchen.
The baby loves it because mommy's icing is his favorite thing. Our daughter is my best critic, she has to critique my cakes before they go out the door, and she also likes to decorate her own cakes whenever possible, just like mommy. Jody liked the Elmo cake I made best, he's infatuated with Elmo. Thia's favorite is anything girly, the Peace Sign cake was a smash with her, and probably the wedding cake that she helped me deliver. She's also very proud and loves all of her birthday cakes because she gets to decide what birthday cake she wants every year. Dave doesn't have a favorite cake, his favorite thing is to watch me work.
Cakes by Capano knows that where there's cake, there's a celebration. Each piece of cake is served from Jennifer's home, full of wholesome, loving, devotion. Cakes by Capano understands how important your celebration is to you and your family because it's just as important to their family, and they're proud to be a part of it.
We could go on celebrating, but Jennifer has to get back to work crafting wonderful confections for her customers.
I have a three-tiered, Sweet 16 Birthday, purple, and aqua zebra print cake for Saturday.
Find Cakes by Capano online at their Web site CakesByCapano.com. Like Cakes by Capano on Facebook to stay up-to-date about their services and to see all the photos of their latest cake creations.
Telephone or email your order today. You don't have to wait for your next birthday or wedding to find an occasion—order a "Monday" cake. I'm sure that Jennifer will whip you up something amazing.
Mention Made With Passion and receive 20% off your next order from Cakes by Capano.
If you think that cake decorating might be your passion, Jennifer Capano teaches Wilton cake decorating classes at local Michaels craft stores. Get started, and feed your passion.
Click on the "I heart this" button to show Jennifer and Cakes by Capano some love, and to let us know that you'd like to see similar stories in the future.
Don't forget to like Made With Passion on Facebook and follow MWP on Twitter for future updates about food and art that are made with passion.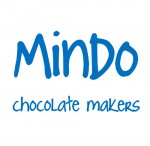 Mindo Chocolate Makers is a local company in Dexter, Michigan that hand processes the best tasting chocolate that I've tried. A family owned business that only started in 2009, Mindo is making a huge splash in the area, with several local food businesses preferring to use Mindo's single-origin chocolate due to the hard working Mindo Chocolate team.
Barbara Wilson, a busy lady who holds a master's degree in public health, was able to sneak in a few minutes to provide us with an interview. Her husband, Joe "Jose" Meza, worked his way through college at Eastern Michigan University as an auto mechanic. After earning his degree, he opened a Volvo repair shop in a garage behind his parents house in 1977. Since then, Wilson and her husband have expanded the company into a family of auto service businesses under the arborMotion brand.
In 2004, Wilson's husband decided to visit his home country of Ecuador after being away for over 40 years. On his trip, Meza had an opportunity to see a lot of the country, but he fell in love with the lush highlands on the west side of the Andes mountains in the rural area of Mindo.
On Meza's return visit to Mindo, he brought his family to show them the wonderful place where he might retire. They purchased a piece of land in Mindo in 2007, with the intention of building a winter home. Being serial entrepreneurs, the family decided to turn the home into a cafe with living space above it, named El Quetzel de Mindo, after one of the many colorful native birds of the region. When the family isn't staying there, the rooms are available for rent.
"The land is near the main square in Mindo, but far enough away from town that you only hear birds and the sound of the river flowing", Wilson said. The family now spends part of the year in Mindo and the rest in Dexter, Michigan.
Mindo Chocolate Makers got started when the cafe began selling brownies that were extremely popular. Wilson decided that the next step was to make the brownies even more delicious by using better chocolate. The husband and wife team found a small farm in Ecuador that sold cocoa beans and bought a 50 pound bag.
The first time that we made chocolate, it was the most delicious chocolate that we ever tasted.
Again, not being able to resist their entrepreneurial spirit, the couple decided that they had to share the chocolate with everyone back home, and they started a two country chocolate making business.
Mindo Chocolate Makers purchases their cocoa beans from an Ecuadorian farmer who is also a local medical doctor. Wilson and her team select only the best condition shade grown cocoa pods from Arriba Nacional cacao trees on the certified organic farm. Ensuring that the beans are extracted from the high quality pods quickly, ensures a premium chocolate that you won't find from a larger chocolate manufacturer.
The beans are fermented, dried, and ground into nibs in Ecuador. The nibs are then flown to Dexter, Michigan for further processing.
In Dexter, the nibs are ground with a stone grinder into chocolate liqueur. Some of the liqueur is separated into cocoa butter and 100% non-alkalized cocoa powder. The remaining liqueur is combined with organic evaporated cane juice and cocoa butter to make hand formed chocolate bars.
We are one of the very few chocolate makers who select the beans from the farmers, ferment, dry and roast the beans ourselves in order to follow the entire process from the moment the beans come out of the pod until they are made into chocolate bars. We make our own cocoa butter and cocoa powder. We do not add soy lecithin to our chocolate and we make our chocolate in a wheat free facility.
Wilson is mostly self taught from the Internet, books, and information gleaned from other chocolate makers, but she has also attended courses at Ecole Chocolat, a school run by master chocolatier Pam Williams.
Wilson says that she is inspired by Patric chocolate, Amano chocolate, Askinosie chocolate, Taza chocolate, Theo chocolate, and DeVries chocolate.
My passion is go to great lengths to learn how to develop the best possible flavored chocolate.
I'm not sure there needs to be any improvement. I had a chance to try Mindo Chocolate's 67% chocolate bar, which came from their 2010 summer harvest, at the Ann Arbor Homegrown Festival 2010. The chocolate was very smooth, and not bitter at all. It was the best tasting chocolate that I'd ever tasted, and I've tried many of the bars available at Zingerman's and Whole Foods. If I can source these bars for my own cupboards on a regular basis, I may never buy a different brand. The chocolate bars are also reasonably priced.
You can purchase the bars at Zingerman's Roadhouse and the cocoa powder at Zingerman's Next Door, in Ann Arbor, Michigan. Chocolate from Mindo Chocolate Makers is my new favorite chocolate and is one of the few hand crafted single-origin chocolate bars available locally.
Please check out the Mindo Chocolate Makers Web site for more information and to find the local shops using premium Mindo Chocolate in their goodies. The company's Facebook page is often updated with events such as tours and tastings. They have an event tomorrow evening, November 2 at 6:30pm, called "Chocolate Making from the Cocoa Bean" at their Dexter kitchen where you can experience the processing of chocolate from bean to bar by their chocolate maker Dan Soebbing. They have some tasting sessions coming up on Saturday, November 20 at Lone Oak Vineyards in Grass Lake, if you miss the first event.
MWP would like to thank Barbara for taking the time out of her busy day to answer our interview questions. We wish Joseph and Barbara all the best with their plans, whether they keep starting new businesses or finally retire to Mindo. Their hard work at starting this business, ensuring such a wonderful organic process, and marketing and sharing their wonderful new chocolate is very inspiring.
To show your appreciation or to let us know you'd like to see more articles on local food makers, please click on the "I heart this" button to show your love! Thank you!

MWP attended the Homegrown Festival 2010 held in Ann Arbor, Michigan to check out the local food producers, and found a couple of real gems to share.
The Homegrown Festival is put together by Slow Food Huron Valley, the local chapter of Slow Food USA™. Slow Food USA got their name from the belief that we can achieve better quality by "slowing down" the industrialization of food, which has been leading to standardized tastes and the annihilation of thousands of food varieties and flavors. Today, the local chapters are also focusing on growing locally to ensure that we don't need to rely on imported food for food security, the fair availability of food to local residents.
I walked to Kerrytown, the old red brick road section of Ann Arbor where the Ann Arbor Farmers Market is located and where the third annual festival was being held. I met up with my friend Beth, who had volunteered to work at the festival. She was busy checking IDs and selling tickets for the many wine and beer vendors that attended the show. Shortly, her replacement arrived and Beth and I checked out the booths together.
It was rather chilly at the festival, and it had rained earlier, but there was quite a large turnout. The crowd was slow moving, forcing you to take a patient, leisurely stroll through. The beer and wine tent was constantly packed, as well as the pavilion which also had beer and wine vendors. The covered areas where local restaurants were serving up food was crammed full of people, hungry for a bite of warm food to fight away the cold bite of the damp weather.
Beth and I both got a slice of the Napoletana pizza from Ann Arbor's own Silvio's Organic Pizza. The dough was almost like pita bread, and the contents tasted mostly of fresh tomato. I couldn't really taste the basil, garlic, and oregano. I imagine that it would be better ordered fresh from the restaurant, and I intend to visit their restaurant to try it again, as well as some of the other 20 varieties of organic pizza that they have on their menu.
The booths that just had information and pamphlets from the local food coops, food kitchens, and Project Grow were a bit less busy, allowing plenty of time to read material and ask questions.
Here at MWP, we like to focus on the little guys though, that are full of passion but still struggling to get going. We like to recognize these people, to give them incentive, and to highlight their accomplishments to inspire our readers to find their own passion. There weren't that many of these at the festival, because booth space was limited, and mostly taken by larger organizations. However, we did find a couple real gems, in the way of Mindo Chocolate Makers and Green Toe Gardens.
Mindo Chocolate Makers
I'm a huge lover of chocolate, and have tried many varieties, including mildly dark chocolate which is my favorite. I was naturally drawn to the booth where Barbara Wilson from Mindo Chocolate Makers was set up. I unfortunately was low on cash, so I didn't think that I'd be able to try any of their chocolate that day.  As I was taking one of their business cards, however, Barbara kindly offered a free sample of both their 67% and 77% chocolate bars from their summer harvest. I normally prefer my chocolate around 60% cocoa, so I tried their lighter one. I thanked her for the sample and walked away from the booth as I let the chocolate melt in my mouth. I expected it to be a bit bitter, but it wasn't at all. It was nice and smooth, and I instantly thought that I should have tried the darker one, as well.
Mindo Chocolate Makers is a two country operation. They hand select their pods from local organic farmers in Ecuador, where the beans are then fermented, dried, and roasted. The  roasted "nibs" are flown into Detroit Metro airport where they're taken to the processing operation in Dexter, Michigan. Once in Dexter, they're hand processed into chocolate bars, cocoa powder, and cocoa butter. You can purchase the bars and powder at Zingerman's Roadhouse, in Ann Arbor, and I highly recommend their chocolate. It may be my new favorite chocolate and is one of the few hand crafted single-origin chocolate bars available locally.
Green Toe Gardens
I was intrigued by the booth of Green Toe Gardens, where co-founder Rich Wieske's smiling bearded face welcomed visitors while constantly showing off honey comb to people who asked about the process.
After waiting in the small line, I walked up to the booth where Wieske was offering free samples and asked which was the most popular. He said that the buckwheat and cinnamon were the most popular that night, but as far as traditional honey went, which he had three varieties of, he suggested the Wild Detroit Honey, which I tried.
The honey was mildly sweet, with a buttery flavor and a slight zing which I imagine was from the unfiltered pollen. Wieske was interested in my feedback, and I said "I've never tasted anything like it." It really was a wonderful, unique flavor.
Green Toe Gardens is a community based apiary in Detroit, Michigan where they bottle raw and unfiltered honey for their own use and for sale. You can buy the honey two Saturdays of the month at Royal Oak Farmers Market and at Avalon Bakery in Detroit.
Even if you've had raw honey before, I'd definitely recommend trying all the varieties that Green Toe Gardens offers. Different honeys really do have individual unique flavors, and it's worth trying every one just for the excitement of having something you've never tasted before.
Although the weather has been unseasonably cold for the first three years of the Homegrown Festival, there have always been plenty of people coming to check out the local food scene. We recommend it for a lot of fun, drinking, music, and for finding out what's going on in the Huron Valley Area of Michigan food scene. We hope to see you there next year!