Posts tagged
3D
Jesselee Lang is a superb 3D fantasy-based artist that tells astounding stories through digital art. He lives in Edmonton, Alberta, Canada, where he provides design, artwork and graphics to the web, print, and video game industries. He offers free images for download at his website, and you can also find his art spray-painted on the sides of train cars.
Jesselee enjoys crafting powerful stories, projecting them into a single work of art for others to appreciate. His works put you in the middle of the action.
I've always thought of my images as mere snap shots of a greater story, a glimpse into a world of fantasy I constantly build upon in my mind.
Jesselee started doodling and sketching in elementary school. By the time he was in his late teens, he'd graduated from sketch pads to abandoned buildings and railway cars.
The underground graffiti art scene can be a harsh environment. The works are up for public ridicule, especially from peers and mentors. It's a sink or swim world that cultivates only dedicated artists.
Perhaps my choice of canvas was questionable but it was the beginning and birth of a passion that drives my goals to this date.
Jesselee prevailed and continued to hone his craft by developing skills in photography. Photography is an important medium for many fine artists because it requires the operator to capture a living scene as a single, still image. Thus, it teaches the foundations of composition and lighting. Jesselee continued to learn as he worked for professional photographers, using computer software for touch ups and photo manipulation. This was his gateway into the digital medium that would later become his mainstay.
Its been a journey that's for sure. Out of high school, I worked a lot of different labor work. I ran a fork lift for a while, did a lot of manual labor, worked in confined spaces, going down sewers. I worked in security and even trained as a private investigator, from there I decided to follow my passion for art one way or another and that lead me to photography.
Jesselee attended Northern Alberta Institute of Technology to become a Photoshop expert. He continued from there, teaching himself 3D software such as DAZ Studio, Bryce, Carrara, Poser and Hexagon. With his experience and skilled hands, in 2003, he began to fully realize his abilities.
I remember completing my first digital render and that is when I knew I found the way, and it was exciting.
Jesselee shows passion and creativity in the quality and depth of his portfolio. He says that he is inspired by film, music, anime, and video games.
That's right I said it. "Video Games." LOL
However, Jesselee's biggest inspiration is from anime, a modern, stylish form of animation that originated in Japan. Inspirations include: Vampire Hunter D, Ninja Scroll, Ghost in the Shell, Akira, Dragon Ball Z, and Claymore.
I have also gained a tremendous amount of inspiration from the Wizards of the Coast, the Forgotten Realms, and the many stories they have shared over the years.
Wizards of the Coast is the intellectual owner of the world famous hobby game Dungeons & Dragons. Their world of knights, elves, goblins, dragons, and magic, partly inspired by Tolkien's Lord of the Rings trilogy, continues to be the source of a multi-generational treasure trove of game materials, fictional books, video games, and films.
Jesselee continues to be inspired, mentored, and pushed by fellow artists in the same realm.
If I was to drop a name … it would have to be Michael Oswald, a phenomenal digital artist, I cant imagine his work failing to inspire anyone.
Graffiti artists are pushed to develop a signature, or unique style. It's the same way in the traditional and fine art world. Jesselee Lang's signature is apparent if you compare the lighting, color palette, composition, and use of textures in his works. Jesselee's biggest strengths are in lighting and composition, which give him fine control over the moods in his work.
Many of Jesselee's works have a heavy feeling. The imagery in "Goblin Mystics" hangs on my mind and heart and makes me feel like a scared child hiding in the woods as the events unfold. In contrast, "Alien" has a similar composition, but the lighting is altered, and instead of cowering in fear, I have a sense of awe and curiosity.
In "Centurion War" and "Drow Man Eater", the characters feel multidimensional. They seem battle weary, yet strong. You want to know what amazing things have happened, and what's going to happen next.
Due to their mastery in composition, story telling, and similar use of lighting, I think that Jesselee can most easily be compared to popular fantasy artist Luis Royo, especially the work depicted in Royo's hard cover book Malefic. Jesselee's work is also similar to the work of popular book cover illustrator Stephan Martiniere. My favorite works by Jesselee are "Centurion War", pictured above, and "Ranger", pictured below.
Jesselee admits that his most prized accomplishment is launching his own website and company in May, 2010. Dark Geometry provides professional, awe-inspiring, 3D fantasy-based art and graphics for various projects. Having one of Jesselee's images as cover art on a fantasy novel or video game would catapult it off the store rack.
On average, Jesselee says he spends about four hours designing a scene in 3D, followed by approximately ten hours of rendering, and two hours in Photoshop. Of course, it varies, depending on the complexity of the image. It took Jesselee fifteen hours to complete "Centurion Wars", and another twenty hours to render the image.
I asked Jesselee if he had any advice for aspiring artists wishing to create similar art.
First and foremost, enjoy the time you put into your art. I believe it is important to let your creativity come through effortlessly in passion and not to force results. Stay excited and inspired. Expose yourself to as much of the things that inspire you as often as you can. Ideas will flow.
He also says that investing in quality hardware pays off.
A good piece of hardware (PC or Mac) goes a long way in 3d artwork and rendering, and believe me, is worth the investment.
Jesselee Lang's artwork can be found at his Web site Dark Geometry, where you can commission him for new and original pieces. You can purchase many of his ready-made works directly from his gallery at Shutterstock. He also maintains galleries at deviantART and Flickr.
Surprisingly, a number of his pieces are free to the public for non-commercial purposes, through a Creative Commons share-alike license. Also, he provides many of his pieces for free download, in HD quality, for use as your computer, PS3, or XBox 360 background. Actually, now that I think about it, this might not be so surprising for a guy that leaves his work on the side of a rail car.
If you like what you see here, go check out the rest of Jesselee Lang's art, and let me know which piece is your favorite. If you like his artwork or would like to see more similar stories, don't forget to click the "I heart this" button at the end of the article. Also, if you happen to catch Jesselee's signature work on the side of a building or train car, be sure to send me a photo.
Now go put your signature on something that you're passionate about.


Michael Burleigh is an American artist that has built up a great portfolio of abstract art while supporting his country's infrastructure as a truck driver based out of San Bernadino, California.
Burleigh has been passionate about art and has been drawing since the age of seven. He says that he received his artistic gene from his mother, who was a great artist. Burleigh's interests led him to sign up for art classes in high school and he later had the opportunity to study art in college as well.
More recently, Burleigh has successfully transferred his traditional art skills into another realm by becoming a self taught digital artist using his favorite software tool, Bryce. He is also learning how to incorporate other software such as Adobe Photoshop, Cinema 4D, Illustrator, and Carrara into his work flow.
Five years ago, my son got me started with digital art. The medium I enjoy the most for now is digital, although it can be frustrating to learn at times.
When an artist says that they have all but switched to digital, it makes me curious to see their other drawings. I hope that Michael will send a couple to share.
Burleigh's abstract style is largely inspired by his favorite artist, Salvador Dali, but also by his eye for architecture and automotive design.
I would describe Michael Burleigh as a surrealist artist leaning toward the futurism style of abstract art, and his more abstract work largely reminds me of famous Italian painter, Giacomo Balla, although Burleigh's color palette is something completely his own. Burleigh's surrealist art and subjects are clearly influenced by his favorite surrealist painter.
Of his work so far, Burleigh is the most proud of his surrealistic piece titled "Chess dreams".
"Chess dreams" has a lot of artistic merit, especially in the wonderful way that he breaks up the horizon. Burleigh should feel very accomplished with this piece in his goal of being a great surrealist.
Besides some great surreal art, Burleigh has such a large number of amazing abstract pieces in his gallery that I had a hard time limiting myself to showing just a few.
MWP asked Burleigh about his abstract work, because we knew it had to be about more than just the extraordinary aesthetic balance of form and color.
My motivation in my artwork is a reflection of my emotions. I have a saying about my art, "curves of happiness and points of anger".
With his astute focus on form, it's no surprise that Burleigh says that he's interested in starting to create sculpture, which he sees as the ultimate form of art.
I love the fact that [sculpture] is an art form you can not only see but you can feel and study all sides of such an art piece. It is an art form even the blind can appreciate. Unfortunately it is probably also one of the most expensive forms of art to do.
You can check out more of the surreal and abstract art of Michael Burleigh at his page on deviantART. Many of his pieces are available as prints from online art print retailer RedBubble.
MWP would like to thank Michael for contributing his story and artwork and allowing us to interview him. We hope that our recognition will help inspire him to create more art even though we robbed him of some of his valuable time to do so.
Please let me know which of Michael's pieces is your favorite, and I'm sure that Michael would appreciate it if you would click on the "I heart this" button to show your love.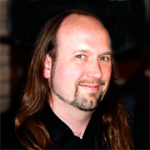 Niels Maclellan is a Scottish born American artist that works primarily in the magic realism style and helps high school kids cope with life through creative expression as an art teacher in Arizona.
Maclellan, who moved to the U.S. at nine years of age, after spending much of his formative years in London, has enjoyed drawing since a young age. Although he was set along a different path for awhile when an art teacher criticized his drawing skills and ability to become an artist, Maclellan eventually found art again when he took some art classes in college on a dare. With his newly discovered passion for art and creativity, Maclellan earned a degree in art education and has since completed a master's degree in educational technology.
Maclellan says his art, which largely captures the struggles that he sees his inner-city students face every day, is influenced by classic surrealist artists such as Salvador Dali and Rene Magritte, as well as more contemporary artists such as Todd Schorr, Eric Joyner, Vladimir Kush, and Mark Ryden. As with many artists of his style, MacLellan is also influenced by many writers.
The most influential author to my work is China Mieville. His imagery begs to be created in a visual format.
Maclellan has been creating digital art since 2004, where he utilizes traditional art skills combined with software tools such as Adobe Photoshop and various 3D illustration programs to express himself. His digital art has been included in numerous juried shows, published in CGW magazine, and featured in a recently released horror video game called "Red Rum: Time Lies". Maclellan was selected to have two of his pieces displayed in the digital art gallery at the 2009 Macworld Conference and Expo in San Francisco. At the expo, Steve Wozniak, the co-founder of Apple Computer, enjoyed the "Call Me" piece and now owns a print.
Niels Maclellan would be best described as a magic realist digital painter that often leans toward dark dreamlike and surreal imagery. The social commentary and obsessively high detailed style of Maclellan's work reminds me most of the style of the famous American painter, Peter Blume, but the lively color palette is perhaps influenced by some of his more favorite contemporary surrealist artists. The image titled "Call Me" is a masterful piece of art that clearly illustrates the social isolation that one can feel in an overcrowded world.
Some of Maclellan's artwork, such as his piece titled "Rise up", has a more whimsical nature, and the wise and inspirational viewpoint almost reminds me of a Norman Rockwell painting.
Maclellan's art is wonderfully lit, textured, and the angle is always inspiring. The multiple levels of detail in the background draw you into the pieces almost as much as the subject, and no part of the canvas is spared a well balanced small jab at your consciousness. Because of the high level of detail of all of his images, and the well placed vantage point in each, MWP asked Maclellan how he begins to visualize such a huge project.
Usually I start with a general concept, or idea. This could be a compositional idea, a strange juxtaposition of objects or just notes on something I see that I feel the need to comment on.

I always have a sketchbook, so I'll ether make notes or draw a sketch of the idea. Usually when I start on an image it ends up being a composite of several of the ideas in the book. Once I start the image, it always seems to take on a life of its own, and I'll let the image dictate what the end results will be, sometimes even surprising me.
Besides just being aesthetically pleasing to the eye, Maclellan's artwork primarily focuses on worthwhile messages to inspire personal and social change, while all of them comment on something commonplace in today's society.
As a teacher, I  see cultural evolution first hand. Over the last ten years, I've seen how technology has changed youth culture and how teenagers today are becoming more tuned into technology and less tuned into each other, or the world around them. Most of my images tend to carry this theme of isolation, or a sense of escape. I can't help but make images symbolizing the challenges these students face every day.
As an artist, Maclellan is clear about what motivates every individual piece, each of which he says takes him anywhere from a week to a month to complete. He says that there's often a huge gap between his own motivations and the interpretations of those viewing his art, and Maclellan says that's one of the reasons that he loves art so much. Maclellan's art likely reminds each individual of struggles in their own personal lives and hopefully inspires something positive.
It's always interesting to hear how other people interpret the ideas I try to put forward. On occasion, their insights are even better than my own.

As an art teacher, I'm seeing less and less students coming into my classroom with any sort of art background, not even from elementary school. The students have a hard time expressing themselves, coming up with ideas, or even basic problem solving, let alone finding deeper meaning in images. Something I try to remedy each day.
You can check out more of the art of Niels Maclellan and read more about him and his art at his official Web site. Prints are available of select pieces from online art print retailer RedBubble, and most artwork is available directly from the artist, professionally printed to order on large format printers, if you contact him through his Web site. Maclellan's imaginative, thought provoking, and inspirational artwork would be great to have in any classroom or office.
MWP would like to thank Niels for contributing his story and artwork and allowing us to interview him, and we wish him all the best in his important role in the future of art.
Please let me know which of Niels' pieces is your favorite, and be sure to click on the "I heart this" button to show your love.
14I

This