Posts tagged
beekeeping

MWP attended the Homegrown Festival 2010 held in Ann Arbor, Michigan to check out the local food producers, and found a couple of real gems to share.
The Homegrown Festival is put together by Slow Food Huron Valley, the local chapter of Slow Food USA™. Slow Food USA got their name from the belief that we can achieve better quality by "slowing down" the industrialization of food, which has been leading to standardized tastes and the annihilation of thousands of food varieties and flavors. Today, the local chapters are also focusing on growing locally to ensure that we don't need to rely on imported food for food security, the fair availability of food to local residents.
I walked to Kerrytown, the old red brick road section of Ann Arbor where the Ann Arbor Farmers Market is located and where the third annual festival was being held. I met up with my friend Beth, who had volunteered to work at the festival. She was busy checking IDs and selling tickets for the many wine and beer vendors that attended the show. Shortly, her replacement arrived and Beth and I checked out the booths together.
It was rather chilly at the festival, and it had rained earlier, but there was quite a large turnout. The crowd was slow moving, forcing you to take a patient, leisurely stroll through. The beer and wine tent was constantly packed, as well as the pavilion which also had beer and wine vendors. The covered areas where local restaurants were serving up food was crammed full of people, hungry for a bite of warm food to fight away the cold bite of the damp weather.
Beth and I both got a slice of the Napoletana pizza from Ann Arbor's own Silvio's Organic Pizza. The dough was almost like pita bread, and the contents tasted mostly of fresh tomato. I couldn't really taste the basil, garlic, and oregano. I imagine that it would be better ordered fresh from the restaurant, and I intend to visit their restaurant to try it again, as well as some of the other 20 varieties of organic pizza that they have on their menu.
The booths that just had information and pamphlets from the local food coops, food kitchens, and Project Grow were a bit less busy, allowing plenty of time to read material and ask questions.
Here at MWP, we like to focus on the little guys though, that are full of passion but still struggling to get going. We like to recognize these people, to give them incentive, and to highlight their accomplishments to inspire our readers to find their own passion. There weren't that many of these at the festival, because booth space was limited, and mostly taken by larger organizations. However, we did find a couple real gems, in the way of Mindo Chocolate Makers and Green Toe Gardens.
Mindo Chocolate Makers
I'm a huge lover of chocolate, and have tried many varieties, including mildly dark chocolate which is my favorite. I was naturally drawn to the booth where Barbara Wilson from Mindo Chocolate Makers was set up. I unfortunately was low on cash, so I didn't think that I'd be able to try any of their chocolate that day.  As I was taking one of their business cards, however, Barbara kindly offered a free sample of both their 67% and 77% chocolate bars from their summer harvest. I normally prefer my chocolate around 60% cocoa, so I tried their lighter one. I thanked her for the sample and walked away from the booth as I let the chocolate melt in my mouth. I expected it to be a bit bitter, but it wasn't at all. It was nice and smooth, and I instantly thought that I should have tried the darker one, as well.
Mindo Chocolate Makers is a two country operation. They hand select their pods from local organic farmers in Ecuador, where the beans are then fermented, dried, and roasted. The  roasted "nibs" are flown into Detroit Metro airport where they're taken to the processing operation in Dexter, Michigan. Once in Dexter, they're hand processed into chocolate bars, cocoa powder, and cocoa butter. You can purchase the bars and powder at Zingerman's Roadhouse, in Ann Arbor, and I highly recommend their chocolate. It may be my new favorite chocolate and is one of the few hand crafted single-origin chocolate bars available locally.
Green Toe Gardens
I was intrigued by the booth of Green Toe Gardens, where co-founder Rich Wieske's smiling bearded face welcomed visitors while constantly showing off honey comb to people who asked about the process.
After waiting in the small line, I walked up to the booth where Wieske was offering free samples and asked which was the most popular. He said that the buckwheat and cinnamon were the most popular that night, but as far as traditional honey went, which he had three varieties of, he suggested the Wild Detroit Honey, which I tried.
The honey was mildly sweet, with a buttery flavor and a slight zing which I imagine was from the unfiltered pollen. Wieske was interested in my feedback, and I said "I've never tasted anything like it." It really was a wonderful, unique flavor.
Green Toe Gardens is a community based apiary in Detroit, Michigan where they bottle raw and unfiltered honey for their own use and for sale. You can buy the honey two Saturdays of the month at Royal Oak Farmers Market and at Avalon Bakery in Detroit.
Even if you've had raw honey before, I'd definitely recommend trying all the varieties that Green Toe Gardens offers. Different honeys really do have individual unique flavors, and it's worth trying every one just for the excitement of having something you've never tasted before.
Although the weather has been unseasonably cold for the first three years of the Homegrown Festival, there have always been plenty of people coming to check out the local food scene. We recommend it for a lot of fun, drinking, music, and for finding out what's going on in the Huron Valley Area of Michigan food scene. We hope to see you there next year!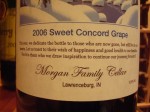 Jason Morgan makes homemade wine in Lawrenceburg, Indiana, from homegrown grapes, fruit, and honey harvested from his very own bee hive, and he passes on his traditional knowledge to the world through his website. He feels that one day we might all live a simple life again, if we remember how.
Jason's enriching Internet blog is a great read for anyone interested in wine making, beekeeping, gardening, vineyard management, culinary arts, wood working, hunting, and other methods of self-sustenance. It's pretty clear that once Jason becomes passionate about something, he makes it happen.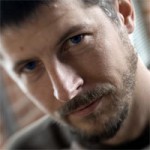 Jason is the co-founder of a web development and design company that provides compelling web presences and cutting edge tools to businesses. When he's not busy at work, he reconnects with his roots by practicing self-sustaining techniques that rely on nothing but simple tools, the earth, and hard work.
In 2001, not long after Jason started his new company, his father suffered a debilitating stroke. Jason immediately immersed himself into his father's rehabilitation.
For physical and mental therapy, we made wine together, him showing me how he did it and encouraging me to take it to my own place. It was a pretty rough time, but . . . it brought us pretty close together. Now, I visit him weekly in a nursing home sharing the latest and slipping him the taste of the latest.
Always excited to learn more, Jason has taken a few classes, but a lot of what he's learned has been passed on to him from his father.
Jason built his own "brew kitchen" where he prepares his wines and other fermented beverages. In his kitchen, he combines various home grown fruits, such as cherries and blackberries into a "must" that becomes the main ingredient for one of his wines.
Later, he lets the fruits ferment, before expelling the carbon dioxide and aging the wine.
Jason says that one of his greatest accomplishments is that people really enjoy his wines.
He stocks his hand crafted wine cellar with homemade beer, honey mead, apple cider and grape, cherry, blackberry, and elderberry wines, along with pickled and other canned vegetables from his garden. During the long mid-west winters, he's able to enjoy the fruits and vegetables of his labor, all winter long.
Jason is passionate about keeping the Morgan family traditions alive, and he continues that tradition by sharing his knowledge and experience with the public.
Like most forms of art, and trades, even the most naive can approach it. They simply have to embrace the fact that they don't know it all, and have a desire to learn through listening, personal experience and a drive to invent something new. My biggest offering to the world is my personal blog and website.
An important key to any home brewer, wine maker, or cook is keeping a meticulous journal of their deeds. The idea is that if you make something that's a huge hit, you need to be able to recreate it, or if it's close to something special, you can tweak it until you've reached perfection. There is some chemistry involved in wine making, and it's tricky to get the pH balance just right during the second fermentation. Jason keeps his own extensive logs.
I'm inspired by the pioneers who have pushed wine making, beekeeping and other trades to the limits, therefore creating knowledge to be shared by all. Examples include the science and physiology of bees, the art of balancing acidity in wine and the simple tools our ancestors used to create big, meaningful things. All this stuff is in books, the internet and maybe one day, instilled back in offspring.
I've been following Jason's posts for awhile, and I am quite envious of how he gets everything done, despite a busy work schedule.
One of our family goals is to have a garden and raise our own honey bees. Jason truly inspires me with the passion that he demonstrates through his writing, photos, and videos on his website.
I think bringing light to a lot of things that have been forgotten is almost essential, if not only to keep our kids in check and remind them that life is not handed to you on a platter. When you go through the years in your life and don't have anything to show for it, that's where people stray, always looking for the next thrill but can't find it. If only they looked right under their nose and pursued something worth pursuing.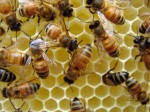 Jason Morgan's informative blog about wine making, beekeeping, gardening, and other self-sustaining arts can be found on the web at AllMorgan.com. He also posts a lot of updates and great photos on Facebook so go friend him, and then get started on something that you're passionate about. I'm going to go get myself invited over to Jason's house for a glass of wine and a look at his bees. Let me know if you learn anything new or how your recipes turn out.