Posts tagged
Cincinnati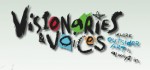 Visionaries & Voices is a locally funded program that facilitates the creation and exhibition of art by people with disabilities in the Cincinnati area. The concept seems simple enough, but their mission statement is cleverly modest. If they were NASA, it would be similar to saying, "We help get people off the ground."
The mission of Visionaries and Voices is to provide artistic and cultural opportunities for artists with disabilities, and to build an inclusive environment where all artists feel valued. We value a world in which artists with disabilities not only create and share their works of art, but also are able to learn, work, collaborate, exhibit, teach, and celebrate with other community members.
Discovery
Visionaries & Voices began over 10 years ago, when two case managers, Keith Banners and Bill Ross, from Developmental Disabilities Services made an amazing discovery. They learned that there were individuals already in the programs that, though disabled, were also talented, self-taught artists. It was true outsider art.
The lack of formal art education and instruction enabled them to create uncommon and compelling pieces of art. For example, paper was invented to write on. If you hand a sheet of clean paper to a formally educated person, he might scribe a touching verse on it. The self-learner might invent origami and create elaborate forms, using the same material.
Inspired, by 1999, Banners and Ross had helped form a small collective of disabled, outsider artists. The group built ties with the local art community. They shared exhibitions and established friendships.
Forging
In 2003, Visionaries & Voices, the official non-profit organization, was founded. Initially, they had only one studio at Essex Place, and they opened its doors to artists with disabilities. It was a place where artists could create original pieces of art, collaborate with each other, and exhibit their works.
The program continued to reach out and grow, and before long, the single studio ran out of room. Thankfully, however, FrameUSA came to the rescue in 2007 when they generously offered a large space in their Tri-County warehouse. A second studio opened its doors.
In 2008, Visionaries & Voices moved from their original Essex Place Studio into a larger space in Northside, a Cincinnati suburb. The new location, in addition to a studio, provided enough room for a gallery and administrative offices. The Northside building now serves as the V&V headquarters. Visionaries & Voices now offers both fully-staffed studios to members of the community.
Launching
The V&V services consist of four major programs. The V&V Studio Program provides the studio space for the creation of art, the materials needed, and gallery space to exhibit and sell their finished pieces.
The V&V Outreach Program extends the services to the homes of disabled individuals who are unable to utilize the studio. The outreach program also provides "emergency" service to regular studio members who can't attend the studio due to illness or other serious issues.
The V&V Next Level Program focuses on helping over twenty disabled individuals who have decided to make art their full-time career. The program encourages the artists to create and execute goals, and helps them prepare and present their works.
The V&V Same Difference program helps the artists develop an art curriculum, which the artists then teach to children in exchange for real income.
V&V Today
Ultimately, Visionaries & Voices provides open doors to disabled artists, but through the same open doorway, it allows us access to a unique, inspired world of art. Even better, if one of the many remarkable pieces speaks to you, you can honor the artist by taking the original home.
Simply put, NASA does help get astronauts off the ground, and V&V helps launch artists, but once they're up there, boy, the things they can do.
Read more about Visionaries & Voices at their official Web site. Go like their page on Facebook to show your support of the organization and stay informed about their upcoming events.
Visionaries & Voices is funded by various grants, donations, and sponsorships from businesses and individuals. In fact, you could be one of the benefactors. Read about some of the different levels of sponsorship on their Web site. I recommend that you visit the V&V online store, where you can purchase highly collectible original art and other merchandise.
Watch an inspiring 20 minute documentary about V&V, filmed and edited by local filmmaker, Christian Appleby.
Happy Hour Fundraiser at the Palomino – Thursday, October 7th, 2010
The Palomino restaurant in downtown Cincinnati is hosting a fundraiser event this Thursday, October 7th, 2010, from 5 to 8 PM.
It's just a $10 donation, with free appetizers provided by Palomino. A special piece from late V&V artist Donald Henry will be raffled off at the event. The chance to win a Henry original, alone, is worth the price of admission.
Here's a link to the full event. In case you've never been to Palomino, you might want to at least tuck in your shirt.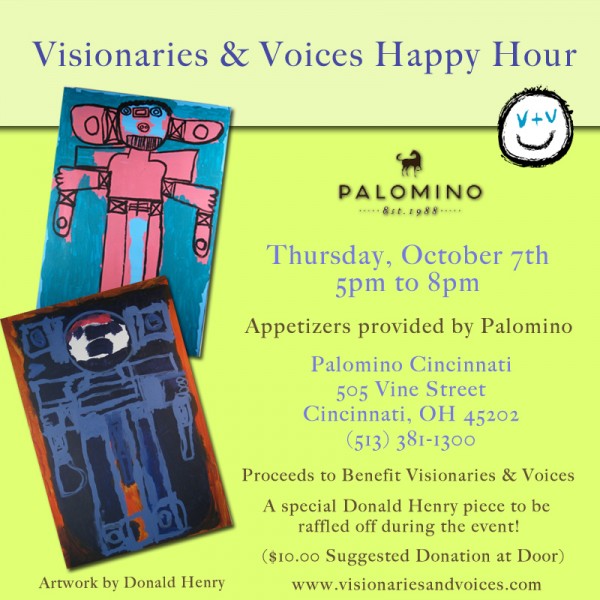 V&V at the A.R.T. Gallery – Friday, October 8th, 2010
The A.R.T. Gallery in downtown Wyoming, Ohio is presenting an exhibit of works from 21 V&V artists, who will be attending the show. The program runs from 6 to 9 PM and is hosted by gallery owner Inez Baird.
There will be wine, light hors d'oeurves, music, and great fun. I'm attending this one, since I live just up the street!
You can RSVP like I did, but they'll still let you in without, in case you're a rebel or you just don't know if you can make it until you're there. Come meet some amazing artists, or at least stop in to say hi.