Posts tagged
Covington
The Yankee Doodle Deli makes handmade gourmet pretzels in three unique and distinct flavors, using only the finest local ingredients. Zels can be found in many local retail shops in the Covington, Kentucky, and tri-county area.
It all started when Marilyn Baker went out to pick up a movie, and came back with a dog. Marilyn named the dog "Yankee Doodle", inspired by the name of the film ("Damn Yankees"), which she had intended to buy on that eventful trip.
Years later, in 2004, Marilyn's companion, Yankee Doodle, sadly died. To help her cope with the loss, Marilyn put her energy into cooking, a lifelong passion.
A speech pathologist at a rehabilitation center, Marilyn prepared food for her coworkers. Out of the items that she baked, one thing became a clear hit–her gourmet spicy pretzels.
With the prize being an entire bucket of the gourmet pretzels, Marilyn had a naming contest for the snack, and the name Zels was born.
With the help of friends, family, and coworkers, she developed two more flavors.
The three mouth-watering varieties are the original Spi-Zels (mildy spicy, tangy, and salty), Honey Gla-Zels (sweet and salty with a hint of peppery spice), and Cinna-Zels (sweet and salty cinnamon).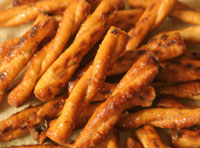 Zels gourmet pretzels can be found in local retail and hospital gift shops.
Visit YankeeDoodleDeli.com for a list of retail stores where you can find Zels and to order online. You can also friend the Yankee Doodle Deli on Facebook.
I love the Spi-Zels, but my kids prefer the Gla-Zels. Let me know which one is your favorite.