Posts tagged
Indian Hill Art Show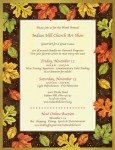 The Indian Hill Art Show is Friday, November 12 from 6:00-9:00 p.m. and Saturday, November 13 from 10:00 a.m. to 3:00 p.m. The annual event at the Indian Hill Church in Cincinnati will feature works from over 40 local artists. Works from Cincinnati oil painter Daryl Urig and art from the acclaimed Visionaries & Voices program will be available.
Works are for sale, which means that you can take home some great originals and prints. A whopping 30% of the proceeds go to the Indian Hill Church outreach programs. Get there early and buy quickly or your favorite piece might walk out the door with someone else.
Daryl Urig, nationally acclaimed oil painter, and MWP featured artist, will be debuting some of his works at the show. The Indian Hill Art Show is also sponsoring an online auction, so even if you can't make the show, don't forget to bid on these spectacular pieces of art.
Daryl's auction item is a beautiful, signed and numbered print, titled "Relax". Place your charitable bid today for your chance to win a gorgeous reproduction of an original plein air oil painting. Daryl is providing a sneak preview of his works that will be appearing at the show, located on his Web site.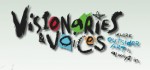 Visionaries & Voices is an outreach program in Cincinnati for artists with disabilities. The artists of Visionaries & Voices produce outstanding and highly collectible works of art. Featured V&V artists include:
Barry Davis
Rosie Petrou
Joel Whitaker
Victor Dambowsky
Kevin White
Indian Hill Art Show
Location:
Indian Hill Episcopal-Presbyterian Church
6000 Drake Road
Indian Hill, Ohio 45243
(513) 561-6805
Time:
Friday, November 12th
6:00p.m. – 9:00p.m.
Wine Tastings, Appetizers, & Complimentary Parking
$5.00 donation for adults
Saturday, November 13th
10:00a.m. – 3:00p.m.
Light Refreshments & Free Admission
Learn more about Daryl Urig and Visionaries & Voices from our featured articles.
Don't forget to like Made With Passion on Facebook and follow MWP on Twitter for future updates about food and art that are made with passion.