Posts tagged
Juan Javier Pescador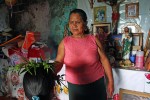 The Ann Arbor District Library is celebrating the Day of the Dead in 2010 by presenting a set of diverse artistic events around the photography exhibit "Curanderas: The Heart and Hands of Coatlicue" by Juan Javier Pescador. In the best tradition of Day of the Dead celebrations in the United States by people of Mexican descent, the AADL will feature different aspects of Mexican and Mexican American cultures. On November 1st a presentation by Juan Javier Pescador on the history and transformations of the Day of the Dead will be followed by an Aztec Dance group performance from East Lansing, led by Estrella Torrez, a professor at Michigan State University. In addition Jacqueline Moran, cultural representative of the Mexican Consulate in Detroit, will inaugurate the photography exhibit.
The exhibit will be showing October 19 – November 29, with the opening reception on November 1, at 7:00pm EST. The Ann Arbor District Library main branch is located at 343 S. Fifth Ave., in downtown Ann Arbor, Michigan. (Information quoted from press release.)
MWP will be attending this event. Please say "Hi", if you see us there!