Posts tagged
milk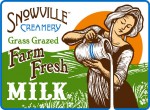 Snowville™ Creamery provides great tasting, high quality, farm fresh, minimally processed milk and cream to consumers in Ohio and neighboring areas. They feed the cows a special diet, which yields milk that tastes better and is higher in Omega 3 fatty acids and CLA, which leads to leaner and healthier milk drinkers. Snowville Creamery isn't keeping the cows' diet a secret. It's grass.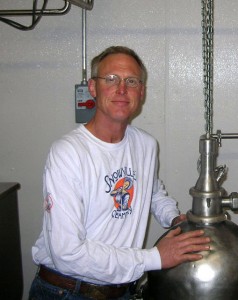 Warren Taylor is the owner of Snowville Creamery. He graduated from Ohio State University with a Dairy Technology degree and worked for Safeway Dairy Division designing production facilities for 10 years. He spent another 10 years as an independent consultant doing the same thing for such dairy giants as Land O' Lakes, Tropicana, Dannon, and Daisy.
In 1995, Warren's neighbors were farmers. Bill Dix and Stacy Hall had started a small herd of cows on their farm. Instead of raising only Holstein cows that yield more milk than other breeds, Bill and Stacy raised a combination of Brown Swiss, Guernsey, Friesian and Jersey cows. They mixed the herd for improved genetic diversity, health, and sustainability.
Bill and Stacy were passionate about raising a self-sustainable, grass fed herd. The cows were allowed to graze grass on their own. They were a healthy, happy family of cows that got plenty of exercise as they walked up the hill to the milking station twice a day.
Warren and his wife, Victoria, were treated with fresh milk from Bill and Stacy's herd on a regular basis. Warren pasteurized the milk himself on the stove top and his family enjoyed the milk's richer, creamier flavor and added health benefits. Warren and Victoria's two children also loved the milk.
Our kids are milk drinkers. They'll pour themselves a big glass of milk and empty it, and pour it again, and drink it again.
In the winter, when Bill and Stacy's herd were allowed to dry up and weren't providing milk, Warren and his family had to return to the milk on the store shelves.
We were reminded every winter, the difference between Bill and Stacy's milk and the typical milk in the marketplace.
Warren and Victoria believed that the superior milk should be provided to the rest of the world to enjoy and reap the benefits.
So, the idea of doing this has been percolating around Victoria and I and Bill and Stacy for a decade and a half.
Warren Taylor, of course, knew how to build a processing plant, so he got together with Bill and Stacy and they agreed to create a creamery right there on Bill and Stacy's farm. Snowville Creamery was born.
They broke ground in December of 2006 and were in full production by December of the following year. Having the plant on the premises allows Snowville Creamery to minimally process the milk. Therefore, Snowville Creamery milk is fresher than most milk that you find in the supermarket. All milk from Snowville Creamery is on the store shelf within 48 hours of it being collected from the cows.
Snowville Creamery follows the minimally processed manifesto by pasteurizing the milk and cream to the lowest legal temperature, which allows the milk to retain more of its original flavor and nutritional value.
Snowville Creamery also doesn't homogenize their milk. Homogenization is done to provide a consistent product to consumers. Part of the process puts milk under extreme pressure and pipes it through tiny holes to break down the fat molecules. This prevents the milk cream from separating, but it also drastically changes the properties of the fats. Some people who have difficulty digesting heavily processed milk from the store shelf can actually tolerate non-homogenized milk.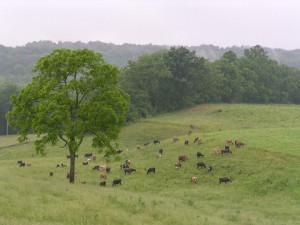 If milk were potatoes, Snowville Creamery's product would be grandma's lumpy, homemade mashed potatoes, whereas the other brands would be consistent, but unremarkable, instant potatoes, made from flakes. For those who like their potatoes to taste like potatoes, the latter doesn't compare with grandma's. Besides, the lumps are fun. Be sure to shake your Snowville Creamery milk before you drink it, otherwise all of the rich cream will end up in your glass, and that wouldn't be fair to the next person.

Milk from Snowville Creamery is beneficial to you both in taste and nutrition. However, there would be no Snowville Creamery if it weren't sustainable. The same passion that drives Warren Taylor and his team to deliver superior milk to local markets drives Bill and Stacy to be passionate about sustainable production. Grass fed cows produce less waste. The manure from grass fed cows can be put back into the earth, and naturally grown grass doesn't have to be transported to the farm, which reduces emissions and cost.
Sustainable farmers believe that with continuing ingenuity, there may be no limit to the size of farms that may be self-sustainable. However, currently, large factory farms are not sustainable. Factory farms must haul in feed and haul out manure. Sustainable farms do neither.
We are inspired by "food revolutionaries" including Joan Dye Gussow, author of This Organic Life, Michael Pollan author of Omnivore's Dilemma, and Carlo Petrini, founder of Slow Foods International. Likewise, we are inspired by Jeni Britton-Bauer, owner of Jeni's Splendid Ice Cream, who is an innovator and strong supporter of locally sourced ingredients such as Snowville Creamery milk & cream.

Another source of inspiration comes from within our Snowville Creamery team. They amaze us with their dedication to the cause of farm fresh, minimally processed milk. Good food for all!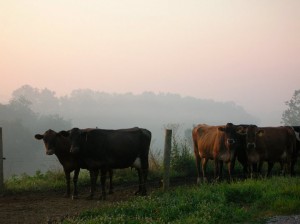 You invest in the land, invest in the cows, and the rest is mother nature. Grass produces happy, healthy cows. The cows eat it, live in it, and sleep in it. Grass fed, pastured, cows are the simple formula. There's no secret here. In fact, Warren Taylor will share his plans with anybody who asks.
Recently, Slow Foods Columbus sent 9 delegates to the Terra Madre Conference in Italy. Warren Taylor and Jeni Britton-Bauer were proud to be two of the members that were selected to share ideas at the conference with other food revolutionaries.
Minimally processed, grass-based milk is rich in Omega 3s and boasts 5 times the amount of CLA that aids immune health, increases lean body mass, and is a powerful anti-inflammatory. Besides nutrition, grass-based milk tastes like a dream! We have received hundreds of emails from persons all across the Mid-Atlantic region voicing their re-discovery of milk as a result of Snowville Creamery.

With our dedicated team of milk advocates, we are able to spread the good news of farm fresh milk at numerous community events, tastings, conferences, festivals and farm markets. We are truly grateful to have such strong grassroots support. Without the support of our customers and grocery markets, we could not bring farm fresh milk to market.
The Snowville Creamery milk plant is located in the Appalachian foothills of Ohio just outside of Athens. They distribute their product to over 80 grocery stores throughout Ohio, including Cincinnati. Their milk is also used at many coffee shops such as Coffee Emporium, Donkey Coffee & Espresso, and A Touch of Earth in the North Market. You will also find their products in Whole Foods Markets in the Washington DC area, Pittsburgh, Lexington, and Louisville. Visit the Snowville Creamery Web site to discover all the locations where you can get their great tasting milk and cream. Also, be sure to friend Snowville Creamery on Facebook to stay in touch with all of the great things happening with Snowville Creamery, Warren Taylor, and the milk industry.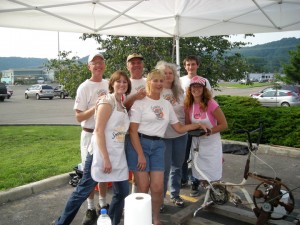 I originally discovered Snowville Creamery last summer, at a local screening of the movie Fresh. Fresh is similar to the film Food, Inc., except Fresh talks more about solutions, like sustainable farming and community gardens. Warren Taylor was on a panel discussion after the show, and it was inspiring to see the passionate way that he talked about the farm, the cows, and his milk. Snowville Creamery is helping to lead a food revolution. Supporting it is as simple as making an informed choice at the supermarket. Pour a glass of passion from Snowville Creamery and join the revolution.
Watch a video blog, narrated by Warren Taylor, hosted by Whole Foods Market.
Click the "I heart this" button to show your love for Snowville Creamery and to show your interest in similar articles for the future.
Don't forget to like Made With Passion on Facebook and follow MWP on Twitter for future updates about food and art that are made with passion.
26I

This