Posts tagged
portrait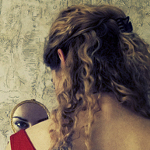 Lilyana Karadjova is a creative art photographer from Sofia, Bulgaria where her day job is working as a cultural journalist for Novinar, one of the top national daily newspapers of the recently democratic republic. When not writing for the newspaper, Karadjova writes for her own personal discovery, and takes beautiful and tragic photos that reveal her intimate struggle to escape the isolation of a media saturated country.
As part of the country's long transition from Communist control to a democratic market economy, Bulgaria legally established freedom of the press from government censorship only ten years ago. This drastic change resulted in a media explosion in Bulgaria that is only now tapering off due to a struggling economy. The 2008 KAS Democracy Report by German political reform organization Konrad-Adenauer-Stiftung, reports that Bulgarians are exposed to one of the largest number of daily newspapers per capita and watch more television than any other European people.
What you see on earth is that the dominant civilizations are "hit", obsessed, victims of television.
Growing up as the daughter of a painter, Lilyana Karadjova always loved the visual arts. However, it wasn't until three years ago, having suffered a series of unfortunate times in her life, that Karadjova discovered her passion for reflection through photography. Having struggled to save the money for her first digital SLR camera, a serious upgrade from a point and shoot camera, Karadjova invited a friend to pose for her.
One of my friends — a very sensitive and beautiful woman, was my first model and we made some great pictures in our first photo session.
One of her first successes, pictured right, made Karadjova very enthusiastic and she hasn't stopped taking pictures since.
Karadjova is proud to admit that although she knows a lot about the history of art and photography because of her schooling and profession, that she's completely self taught as a photographer.
Many people say that every beginning is hard. I would say that the beginning is much easier, because you are not restricted by any type and genre of art you will start doing later.
Karadjova majored in philosophy in school, which she had hoped would give her a broad perspective that would be easily applied to her professional and personal life. However, she found that studying philosophy can actually be dangerous to your personal growth if you're not careful. You may become very limited in theory and close your heart and mind to new and passionate thoughts and experiences.
After graduating school, Karadjova worked as a reporter at Nova Televsion, one of the three major television stations in Bulgaria. After that, she worked for two years as an editor for the art themed news publication "Wine and Power" before moving up to the cultural journalist position at Novinar, where she currently enjoys interviewing and writing about fellow artists.
In July, Karadjova had an opportunity to feature her work at the Academy Gallery at the National Art Academy of Bulgaria in Sofia. The celebrated exhibit was called "Postidentity" and began with a series of intimate portraits, which then progressed through a series of images representing media's penetration into the lives of postmodern man. It concluded with piercing images representing deconstruction, some of which were taken with a broken lens.
Now I'm 25 years old, and I'm trying to keep my soul and perception as open as a child's, so not only I learn much easier, but also find new places in my imagination.
Lilyana Karadjova is a wonderfully creative experimental art photographer that uses rich tones and icy cold vignettes that remind me of the work of Italian born fashion photographer Paolo Roversi. The muted but warm colors show a passion for life while the troubled poses and the surrounding ocean of blues and greens act to drown the subjects in silent desperation. With the utmost sensitivity, Karadjova seems to highlight the beauty and pain with a contrast that gives us a very personal heart felt look into the subjects and the artist herself.
Karadjova has an excellent eye for both color and black and white photography, and we look forward to seeing more of her experimentation with things such as broken lenses. We can imagine her easily applying her artistic talent to fashion or celebrity portrait photography.
Karadjova says that as a portrait photographer, she is inspired by uncommon and strange people. Her passion is to stop time, capture her inspiration, and allow others to see it through her eyes. I asked her how she composes these scenes.
Sometimes I have an idea and I realize it the way it was intended to be and other times in the working process I become really inspired and then I just have a lot of new ideas. So, this means that the first idea is a starting point, and it is just a push to start working. Much more ideas come in the working process. It is like music improvisation. One should be playing with one's imagination. This is what I call creativity.
My studio is an empty room, which constantly changes the color of its walls. For this purpose I use different textures and paper. I have huge pieces of organza and silk, which are usable in the decoration of interior, making it a dream-like one. The floor is old — I don't do anything to strengthen the effect. There is a big window, which is the prevalent source of light. I also use a reflector now and then.
You can find many more of Lilyana Karadjova's beautiful and thought-provoking photos on her official Web site. Lilyana would like to invite everyone to visit her site and write her an e-mail if they want to share their impressions.
MWP would like to thank Lilyana for sharing her story and the diverse collection of her photos with us. We look forward to following along as she strives to express herself through journalism and photography.
Please let me know which of Lilyana's pieces is your favorite, and I'm sure that Lilyana would appreciate it if you would click on the "I heart this" button to show your love.
15I

This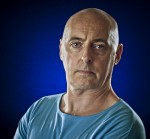 Edward "Edd" Carlile is a Scottish born, seasoned photographer who grew up in the slums of Glasgow but currently resides in Budapest, Hungary where he's working as an English language teacher while exploring his talent and passion in fine art portrait photography.
Carlile had been interested in photo montage from a young age and has been doing photography, including developing and printing since he was 14 years old. Carlile says that he owes his early beginnings in photography to two enthusiastic social workers that taught photography to children as a means of artistic escape from the harsh Glaswegian life of the 1960s and 1970s.
Read any book by Paddy Doyle and you get a feel for the poverty and desperation of a city and community becoming post industrial and what that means for the human heart.
Today, Carlile supports his beautiful wife and children by working as a private English language teacher in Hungary. Due in large part to his business savvy, talent, and well honed photography techniques, Carlile also operates a profitable corporate and event photography business on the side.
I live in Budapest, an incredible bawdy old whore. Beautiful and sensual, decaying and flatulent… visually a photographers wet dream.
Carlile's more personal art comes from photo sessions that he does at no charge, where a model with a lot of character can get some exceptional portraits in exchange for his or her time and permission to be featured in Carlile's growing portfolio.
My studio is located in my spare room but the actual size that I need is very small. The space I need to do a portrait shoot is pretty tight, particularly if I'm using a 50mm lens.
Carlile has mastered the lighting technique known as Rembrandt lighting, named after the famous Dutch painter who featured this type of lighting in his portraits. The heavy contrast in light and dark, done by directly lighting only one side of the face, brings out the fine detail of the face.
It's no accident that Carlile's "Faces of the Past" series of portraits have a remarkable resemblance to the Dutch master's.
Edward Carlile is an amazingly talented photographer whose use of chiaroscuro lighting paints a wonderful portrait full of texture, while masterfully capturing the entire life and future of the subject in the deepest and most respectful way.
Carlile's ability to capture his subjects' struggles, despair, innocence, and sometimes a glimmer of hope or fire for life, reminds me a lot of the works of famous American photojournalist Steve McCurry. Additionally, Carlile's use of light to achieve a vibrant shine and wonderfully textured form really captures the essence of a person's face and character, a skill that I have to compare to that of famous Armenian and Canadian portrait photographer, Yousuf Karsh.
I always like to have portraits looking timeless. When I have a model before me I like to dress them with fabrics, hats and scarves. Cover up modern hairstyles and remove anything that places the model in this time.
In November of 2009, Carlile arranged to take portraits of the general public in his native Glasgow at Borders Books & Music, a store which has its origins in my own hometown of Ann Arbor, Michigan here in the U.S. At the book store, Carlile set up his simple studio and convinced 75 locals to participate in his series titled "Faces of Glasgow", an enlightening examination of the hard working people of Glasgow.
Through his wonderful portraits and interview questions, Carlile has put together an insightful piece into his fellow man that captures the heart of Glasgow. He is currently trying to get the body of work exhibited in his home country to show the pride he has of his fellow countrymen.
I love trying to pull something from a short time that I have with a person that gives the viewer a strong impression of emotion and character and that the end result for the subject is a completely different view of themselves than they may have seen before.
Carlile says that he prefers to shoot through a single umbrella for the key light, which he uses close enough to the subject to also spill light onto the opposite side of the face. Carlile then uses a second light to pull the subject out of the black background and give the head some definition. He says that he's purchased a full set of studio lights from the good people at Elemental Photography, but is still getting good results with his two Nikon SB 600s, Nikon SB 800, and "bad ass" Nikon SB 900 Speedlights. Although Carlile does plan on breaking out some of his studio constant lights for an upcoming 1400 person corporate shoot, which we're sure will keep him busy for awhile.
Some of my favorite works of Edward Carlile were not in this review, so I highly recommend visiting his official Web site to see more of his fabulous works, including his "Faces of Glasgow" series. To get the full story about the people in the photos, you should pick up the series in book form under the title Glasgow Faces, available from online retailer Blurb. To get a glimpse into the life of this hard working photographer and see photos of his beautiful family and studio, you should visit his photoblog. Carlile is proud that his piece titled "The Painter's Apprentice" was featured at 1x.com, a web site that he likes to frequent. "The Painter's Apprentice" is one of my favorite pieces by Carlile, and you can buy prints of it and many others from online photo retailer Zenfolio.
MWP would like to thank Edd for contributing his story and photography and allowing us to interview him, and we wish Edd all the best at getting an exhibit for "Faces of Glasgow" that we know would make his countrymen equally proud of him.
Please let me know which of Edd's pieces is your favorite, and be sure to click on the "I heart this" button to show your love!
15I

This
Josefine Jönsson is an experimental art photographer from Malmö, Sweden. She is currently pursuing her dream by studying fashion photography at the prestigious Gamleby school of photography. Josefine's growing portfolio reveals a stark and extraordinary view into the body and soul of her subjects and herself.
Jönsson grew up in Malmö, a metropolitan area in southern Sweden, where she had been primarily a self taught photographer. She began expressing herself through the lens in 2006, when she attempted to capture the beauty of a field of golden flowers.
I asked my friend Harriet if she could model for me amongst the flowers. Ever since that photo shoot I have had a love for photography.
Now, Jönsson lives much of the year in Gamleby, a small picturesque town along the eastern edge of Sweden, where she is studying commercial and editorial photography, economics, and business at Fotoskolan Gamleby. The Gamleby photography school has a tough application process and only accepts the most talented ten percent of those that apply, yet an amazing ninety percent of the school's graduates go on to become commercial photographers.
I think it is quite hard to become a professional photographer, mostly because it feels that you have to fit a special genre, usually commercial, to be at the top.
We asked Jönsson what she liked about doing portrait work, what inspired her about human subjects, and if she thought it might be a segue into doing a specific type of commercial work. "I like to capture [people's] emotions on film," she said. "I also like how their appearance can change from time to time and how honest they can be in front of a lens." She hopes to transition into doing fashion photography, while holding onto her own unique style.
I don't think that Josefine will have a problem finding her niche in fashion photography. Josefine Jönsson is a brilliant experimental portrait photographer whose artistic use of light, color, and soft focus reminds me a lot of famous American portrait photographer Annie Leibovitz, of Rolling Stone and Vanity Fair fame. The powerful but graceful poses and dreamy subject material are reminiscent of the classic American photographer Anne Brigman, and the more contemporary underwater photos of Howard Schatz. Her intense dream-like images and wonderfully imagined scenes invoke many emotions, from wonder and serenity, to pain, loneliness, and humility.
Jönsson says that her art isn't inspired by a specific artist, but by many artists, both famous and not, as well as nature, her dreams, her thoughts, and her feelings.
I was amazed at how Jönsson managed such dramatic but gorgeous lighting, so I had to ask if it was purely natural.
I have always had a love for natural light, mostly because it's very soft and that it fits my dreams and stories the best. I like to experiment in a studio as well, but mostly the natural light works best for my photography.
If you've never tried to take self portraits, you may not know how difficult it is to frame the picture, and to get a proper focus  and exposure without being behind the camera. Yet, some of Jönsson's self portraits are some of her best pieces, because she's able to be the most creative.
I use a Canon 5D camera and my favourite lens is my 50 mm 1.4. However, there aren't much difference between my self-portraits and portraits I take of models. My self-portraits are very spontaneous though, so whenever I feel I need to photograph something, it's nice to just bring my camera and go outdoors to take photos without thinking I have to find a model, make up artist or days that will fit their schedule as well as mine.
We asked Jönsson if it was a struggle to get ideas from her mind into the lens.
Sometimes I can wake up in the morning and have an idea I want to capture immediately, but other times it can go weeks before I come up with a new idea. It's really what mood I am in, if I am inspired or if I am very busy. My days are always filled with photos, as I love being inspired by other photographers.
Of her work so far, Jönsson is the most proud of her piece titled "Ida". She enjoyed collaborating with a great team which included a beautiful model and hair and makeup artist. The new piece shows where she's going with her commercial work and how her style is progressing, yet still holding onto that unique, dark and graceful eye that she has developed on her own. That wonderful photographer's point of view that she has into everyone's soul.
You can check out more of the wonderful photography of Josefine Jönsson on her official Web site, at her page on deviantART, or on her photoblog.
MWP would to thank Josefine for sharing her inspiring story and passionate photography with us, and we wish her all the best at becoming a commercial success and continuing to develop her edgy and thought provoking style.
Please let me know which of Josefine's pieces is your favorite, and I'm sure that Josefine would appreciate it if you would click on the "I heart this" button to show your love.
10I

This